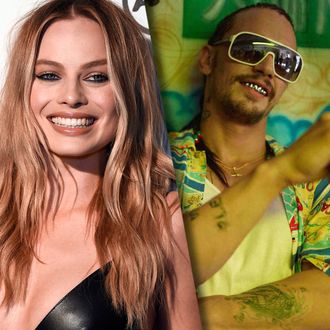 Photo: Frazer Harrison/Getty Images/A24
Margot Robbie actually considered this shit. When James Franco's Spring Breakers character Alien — a cornrowed, tattooed, Riff Raff look-alike — was the hottest Halloween costume in fall 2012, even the Wolf of Wall Street star wanted to be Alien for Halloween. Robbie, apparently a perfectionist, finessed her way into getting in touch with Franco to make sure her Alien costume would be the night's best. In GQ Style's oral history of indie studio A24 (the studio behind Spring Breakers and Moonlight, among many other films we enjoy), Franco detailed Robbie's costume question:
Franco: I would bet that [Alien] was one of the biggest, most popular Halloween costumes that year. This is before Wolf of Wall Street came out, but Margot Robbie, I didn't know her, but she was working with somebody that knew my costumer or something, and got in touch with me and was like, "Can you print me a photo of the tattoos in detail, so that I can get this costume perfectly?" Because she was fucking Alien that year.
Thankfully, Robbie's WhoSay archives reveal that she did indeed dress up as Alien for Halloween 2013. In the words of Alien, spring break … forever.