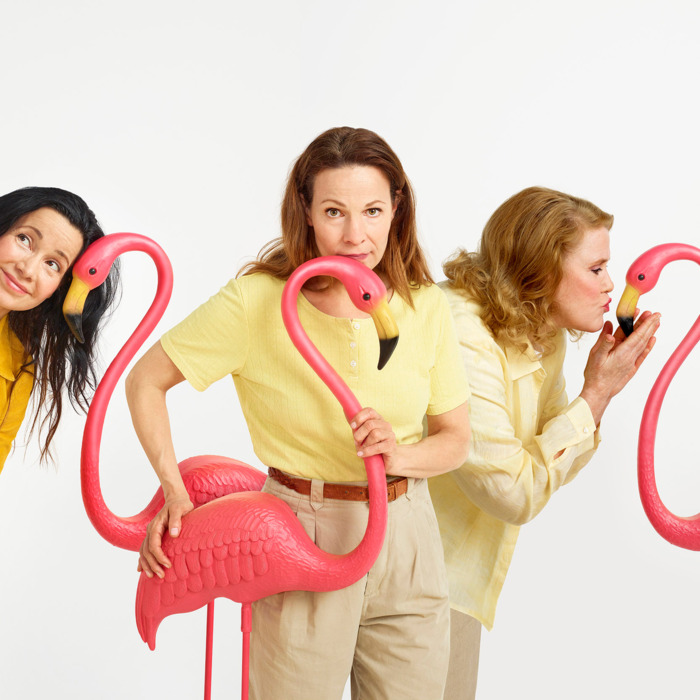 From left: Janeane Garofalo, Lili Taylor, Celia Weston.
Before signing on to play sisters in Marvin's Room, Lili Taylor and Janeane Garofalo had only known each other from afar. The two rose to fame together in the late '80s and '90s in adjacent, if not overlapping, universes — Garofalo through the comedy scene; Taylor in films like Mystic Pizza, Dogfight, and I Shot Andy Warhol. "I feel like we're different aspects of something. I feel like we could be sisters," Taylor told Vulture at a photo shoot for the new play. "Right, but you're the talented one," Garofalo interjected, prompting a quick response from Taylor: "Get the hell out of here!"
Garofalo will play Lee, the wayward sister, and Taylor will take the role of Bessie, who has been diagnosed with leukemia, in the Roundabout Theatre Company's staging of the play. Celia Weston will play Ruth, the sisters' aunt. Written by Scott McPherson, Marvin's Room premiered Off Broadway in 1991, and despite the fact that it was adapted on film in 1997 with Meryl Streep, Diane Keaton, and Leonardo DiCaprio, the show will finally be making its Broadway debut this summer. Above, you can see a first look at Garofalo, Taylor, and Weston together, hanging out amid some kitschy lawn ornaments.
But don't let the bright colors fool you: Marvin's Room may have plenty of humor, but it also tackles chronic illness with unnervingly prescient pathos — McPherson died of complications from AIDS in 1992 — and the show challenges its actors to find a balance between extremes. Taylor said that director Anne Kauffman (Marjorie Prime) had emphasized a pared-down production — the play will feature a simple set, and the actresses said they don't plan to oversell the jokes. To that end, Weston said that she wanted to ensure that Ruth didn't seem "cartoonish," and that this production is aiming for a kind of sincerity. "[This family's] going through tragedies that all families deal with," Weston said. "For me, the essence of success in theater is giving the one experiencing it in the audience an opportunity to relate, to release, to escape."