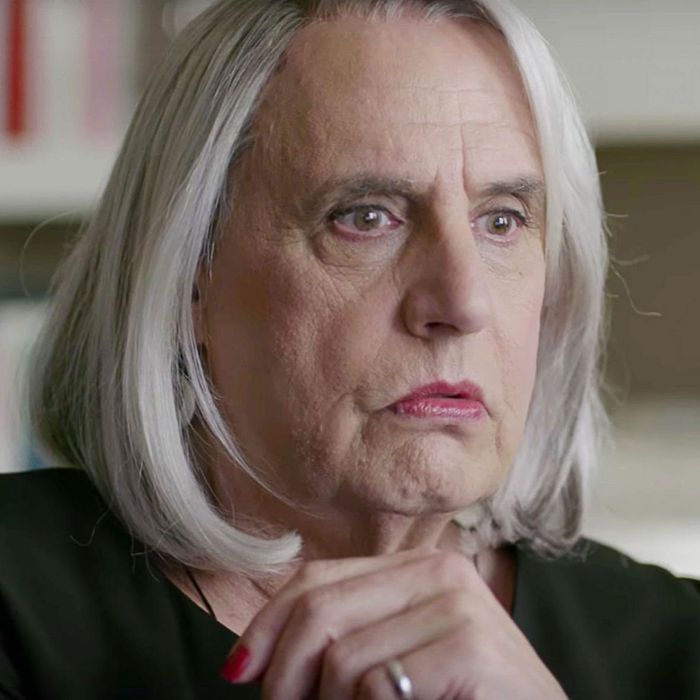 Jeffrey Tambor has played the role of Maura, Transparent's anxious matriarch, to much critical acclaim, but the transformation doesn't come easy to the veteran actor. In the following excerpt from his new memoir Are You Anybody?, out today, Tambor describes how he painstakingly prepares to take on the groundbreaking character.

*******************
People say to me, "You must be having the best time of your life." And I say, "Yes." What I don't say is it can also be very hard because I get into a bit of a state when I play Maura.
It would be wrong to say "nervous," because I'm not scared, or not "performer scared." The word that comes to mind is "cranky." It's bad mood–adjacent, just a bit north of "grumpy." And it's because I am obsessed with doing Maura right.
It's like having a rope around your neck. When I'm away from the set, the rope is very loose, but I know the rope is there. If I have a 10:00 a.m. call, the rope begins tightening at 7:00 a.m. when I wake up. It's tighter by 8:00 a.m. when I have yogurt; 8:30, granola, tighter. By the time my assistant, Van Barnes, picks me and the vultures up for the ride to the set, I can't talk. Van thinks I'm just being actory and preparing, but I'm actually just asking myself, Can I pull this off again? Every day I drive past the Paramount gates, I get in that mood. I get uncomfortable. And it's the ideal mindset, because that discomfort is exactly how Maura feels every day. This is the most successful I've ever been, and it's the most antsy I've ever been. At the same time, I love playing Maura from "Action" to "Cut."
It began on a Thursday in July 2013. I flew to L.A. to appear on an interview show called The Talk. In the car from LAX to the Fairmont Hotel, where I always stay when I'm in town, I opened an e-mail from my agent, Leslie Siebert. She'd attached a script for the pilot of a new series written by Jill Soloway. "Look at Mort/Maura," she said. "This is a game changer." The last time she said that was when she told me I had been cast in The Larry Sanders Show. Another game changer? Mort/Maura—what the … ?
I believe it was on page eight—a scene about eating barbecue—as my car was passing Whole Foods on Lincoln Boulevard, that I said to myself, "Oh my God." Game changer? I had never read anything like this before—a family whose patriarch comes out as a woman? The Pfeffermans are West Coast Jews who put the d back in dysfunctional. You could describe the Tambors of Westlake the same way.
I called Leslie as soon as I got to my room. "I'm in. Tell them I'm in."

"Well, you have to meet Jill Soloway."
"Fine, whatever, I'm in."
The next day I did my segment on The Talk, a CBS show filmed in the Valley. I arranged to meet Jill right after that at a Le Pain Quotidien right around the corner from The Talk on Ventura Boulevard. I walked in and Jill met me at a table and told me to wait just a bit as she finished up with a reporter who was interviewing her for Afternoon Delight, for which she had won the directing prize at the Sundance Film Festival. While she was telling me this, the first thing that hit me over the head was Jill's eyes. There is such a presence, and they shine and go deep. There is just no doubt that she sees, that she is a seer.
When she was done, she came over to my table and sat down to talk. She showed me pictures of her parent, Carrie, who had recently come out as trans and was the inspiration for the show.
This is how the conversation went:
Jill said a sentence, and I said, "I'm in."
Jill said another sentence, and I said, "I'm in."
Jill said another sentence, and I said, "I'm in."
I all but threw myself at her, because this script of hers had struck me in much the way I'd been struck by The Larry Sanders Show and Arrested Development. In all three, there were risk and great characters and great writing. All three also shared a nontraditional platform: Larry Sanders was one of the first original shows on HBO, Arrested was one of the first original shows on Fox, and now Transparent was going to be a streaming show on Amazon—it's television that isn't even on television.
But this show had so much more, because Mort Pfefferman becomes one of the most fantastic people I have ever encountered— Maura Pfefferman.

"I'm in."
I put my hand up to high-five her, and she put up hers but stopped. "Not quite yet," she said. "Give me a little time." Was there another actor in line ahead of me? I had no idea. I still have no idea. And no, never tell me, ever.
I went back to my room at the hotel and watched a copy of Afternoon Delight that Jill had sent me. I loved it. I could see that Jill never rushed a moment; she let a moment play all its truth. Her director of photography was the brilliant Jim Frohna, and she was bringing him on board for Transparent. I loved the film's star, the great Kathryn Hahn, who plays Rabbi Raquel in Transparent.
I called Jill (in the same way I called Garry Shandling years earlier) and left a message telling her how floored I was and "I'm in." We swapped a few e-mails. Days passed.
Finally, my agent called. Yes! "Jill wants you for Transparent." YES!
And here was a bonus: among my amazing costars was my friend from the Milwaukee Rep more than forty years before, Judith Light.

I flew out to L.A. two weeks before we were to begin shooting the pilot. Kasia and the kids stayed in New York.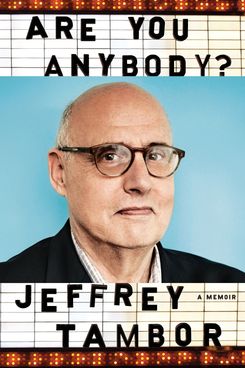 Our first table read was on the Paramount Studios lot. There were no nameplates, no scripts premarked in yellow, but there was this: Jill Soloway seated at the head of the table. "I want to make the world safe for my parent." With that mission statement, the actors began—as Neil Young would sing it—and that baby lifted right off the ground. It sailed and soared, and it ended with a trio of three actresses accompanied by a lone guitar singing "Operator" by Jim Croce: "Operator, well could you help me place this call?"
As the music came to an end, there wasn't a dry eye in the house. There was silence, and then the room burst into applause that lasted forever. I was sitting next to Judith, and we looked at each other. We had just witnessed the best table read of our careers.
But there were a lot of days I spent alone—not lonely, but alone. I had rented a bungalow in Pacific Palisades. It was very small, with just the fundamentals—sofa, table, chairs, all covered with the first drafts of Season One. I was paralyzed in the face of the daunting task and season ahead of me. There were friends in the Palisades—I used to live there back in the day—but I couldn't pick up the phone. It was just me, the bungalow, and all the scripts from Season One of Transparent.
One night my friends Jay and Julia Phelan invited me to dinner at a local restaurant, but during the meal I realized I couldn't understand what they were talking about and I was unable to talk. I saw them stealing looks at each other. That was my last night in public till filming. I hadn't found Maura, nor did I have the technique of playing Maura or really know what I was doing. I took me and my paralysis back to our bungalow.
I met with Jenny Boylan, Zackary Drucker, and Rhys Ernst, my trans teachers. How do I, Jeffrey Tambor, how do I do this? This is not putting on clothes, or getting a mani-pedi. This is a transition to another life. How do you do it right?

All of this Sturm und Drang, the shaky hands, became a godsend, an unintentional way to Maura. She too is alone—not lonely, but alone—she too has shaky hands. She too doesn't know how to do Maura; she just has to. She has no choice.
I remember dropping my kids off at a French summer camp in Montreal, and as I was leaving I turned and saw Gabriel sitting by himself eating his awful dinner, and the table came up to his nose. We got in the car, and Kasia drove while I blubbered. The reason I was blubbering is, I am that kid. And that's the universality of Maura. There's alone and there's alone.
Then Jill arranged a field trip for a few of us to a bar in the Valley called the Oxwood. It would be Maura's debut. Jill, Jim Frohna, Rhys Ernst, and Zackary Drucker came to my room—609, Fairmont Hotel, Santa Monica, to be forever called the Maura Suite (I stay there still)—and we talked a long time. They helped make me up and dress as Maura. I remember her coming to life in the mirror and meeting my new friend for the first time. She looked nice, friendly, rather pretty, and a bit shy—she kept averting her glance.
I walked unsteadily through the hotel lobby to the car. I thought, Don't ever forget this feeling because this is every day of Maura's life. My new friend and I were "stepping out."
When I got out of the car in front of the bar, the valet said, "Do you know who's here tonight? Judith Light!"
I walked in and Maura was welcomed by everyone there. It wasn't about Jeffrey, it was about her. The staff knew what we were doing, and they were incredibly supportive. We all danced that night—Jill, Judith, Rhys, Zackary, Jim, and Maura.
When I needed to use the bathroom, Judith said, "Where are you going to go?"

"I'm going to the ladies' room."
"Do you want me to come with you?" she asked and started to follow.
"No, I'm going to go on my own."
I took Maura on another field trip, to Gelson's Market, because I thought that's where she would do her grocery shopping. I stood in the middle of an aisle thinking, What would Maura eat? Another shopper looked at me and smirked. It was one of the meanest smirks I've ever seen. Oh my God. I had been clocked. So that's what that feels like. Don't forget this feeling.
Zackary and I got a couple of salads to eat in the seating area outside the store. There were no free tables, so Zackary pointed toward one where a man was seated talking on his cell phone.
"No," I said.
"Go," Zackary said.
We sat down and the man kept talking, glancing up at us every once in a while. He finished his call and stood up. "Have a good day, ladies," he said and walked away.

Zackary beamed and immediately high-fived me as I spiritually flew around the world.
Reprinted from ARE YOU ANYBODY? Copyright © 2017 by Molly Productions, Inc. Published by Crown Archetype, an imprint of Penguin Random House LLC.