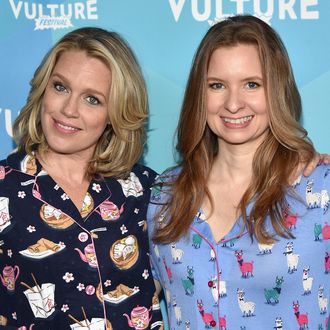 Jessica St. Clair and Lennon Parham.
Photo: Bryan Bedder/Getty Images for Vulture Festival
Lennon Parham and Jessica St. Clair can make anything funny. Just ask the Vulture Fest crowd they kept in stitches at their Playing House Pajama Brunch on Sunday, discussing how Zach Woods is "getting sexy as hell" in season three, per St. Clair, or how their daughters are their mirror-image besties.
But even this unflappable duo was concerned about how they would incorporate St. Clair's 2015 diagnosis of stage-2b estrogen-positive breast cancer into Playing House. Thankfully, they were able to find plenty of humor during dark times. St. Clair told the Vulture Fest audience that Parham was with her at every appointment, so much so that the doctors thought they were romantic partners, a mix-up that will be reflected in Emma's cancer journey in season three. And you can understand how the doctors might have been confused, given that St. Clair asked Parham to personally choose her new boobs following her mastectomy. "She felt each [implant] like a sommelier would. Then she goes, 'It's number two.'" And so St. Clair chose number two on the spot.
St. Clair said that mirroring her own cancer story in Emma's character was easier than she thought it would be, but Parham cut her best friend off, saying, "Come on man, that was the hardest thing in the world." For the writer-director-producer-actors, it meant talking about the difficult journey for weeks in the writers room, attempting to make it all funny in the typically light-hearted tone of the show, and then acting it out all over again. But Parham said of the season-three story line, "It is straight up the thing I am proudest of." St. Clair followed up with reassurance: "And it is funny." She insisted that the Playing House audience shouldn't be afraid, "Because everyone is going to be okay. In fact, we're happier than we were before. We live a 'fuck yes' life. We say 'fuck yes' to everything because we don't give a fuuuuck."