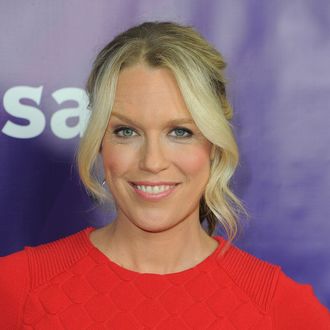 Jessica St. Clair
Photo: Angela Weiss/Getty Images
When Jessica St. Clair and Lennon Parham's Playing House returns to USA for its third season, it won't be all giggles and goofy over-the-top alter egos. In an essay for Stand Up to Cancer, St. Clair wrote about her battle with stage-2b estrogen-positive breast cancer. The actress-writer-producer was diagnosed in the fall of 2015. After undergoing a mastectomy and chemotherapy she returned to working on Playing House during her 12 weeks of radiation. St. Clair explains in her essay that Parham, who is her comedy partner and best friend, helped her through her intense treatment. The duo decided to use the harrowing experience in their show. St Clair writes:
In the new season, my character, Emma, gets diagnosed with breast cancer and undergoes the exact treatment I did. We were worried about bringing such serious subject matter to a comedy show, but we've always written what we've lived. And our real story is that with the help of her best friend, and the people who love her, my character is able to get through the treatment and actually emerge somehow happier and more fulfilled than she was before she was diagnosed. We hope that by sharing my experience—our experience, Lennon and I—that somebody who is going through this process or helping their loved one through it might feel less alone, and might even have some better information for their cancer care. 
Playing House is set to return to USA on June 23. In the meantime, Jessica St. Clair and Lennon Parham will be at Vulture Festival for a "Playing House Pajama Brunch" on May 21.