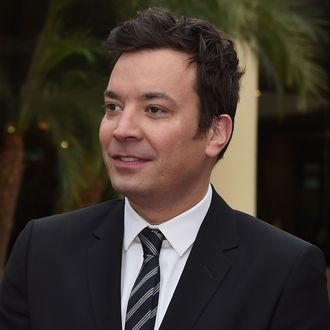 Fallon.
Photo: Alberto E. Rodriguez/Getty Images
Petting Donald Trump's hair was probably not the best idea, Jimmy Fallon is ready to admit. The Tonight Show host sat down with the New York Times to talk over his ratings drop and the fallout from the Trump interview that found the late-night host tickling the president's scalp and asking him a set of goofy, softball questions. "I didn't do it to humanize him," Fallon told the Times. "I almost did it to minimize him. I didn't think that would be a compliment: 'He did the thing that we all wanted to do.'" That's not the read many viewers had on the moment, though. Critics blasted Fallon for going easy on the then-presidential candidate, who at the time had recently refused to say if he believed President Barack Obama was born in the U.S. The fallout from the segment was tough on Fallon, who admits he's a people pleaser.
For Mr. Fallon, who lives a portion of every day online, the hate felt inescapable.

"I go, I just can't read Twitter," he said. "Then I can't read the news. I can't read the internet."

Speaking in a quiet, tentative tone, Mr. Fallon seemed to be reliving the experience as he recounted it.

"I'm a people pleaser," he said. "If there's one bad thing on Twitter about me, it will make me upset. So, after this happened, I was devastated. I didn't mean anything by it. I was just trying to have fun."

The Times' piece ties Fallon's infamous Trump interview to his more politically incisive competitor Stephen Colbert's rise in the ratings. In an email to the Times, Tina Fey commented that going too hard on Trump is outside of Fallon's humor. "Jimmy is not a political comedian, so it would be very phony of him to go out and do long political joke rants just because that's what some people want," she said. "The Tonight Show has historically been a friendly, light show." That's how Fallon said he'd like to keep it — but he does wish he addressed the Trump hair moment during the heat of the fallout. "I didn't talk about it, and I should have talked about it," Fallon told the Times. "I regret that."
Revisit Fallon's interview below.