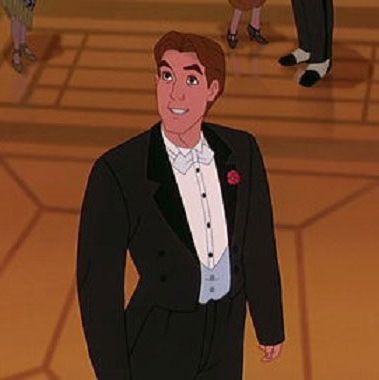 Photo: Twentieth Century Fox
If you see Dimitri, the charming con artist and love interest of Fox's animated Anastasia, tell him to call me. That charming cartoon crook was my first crush. And now that we're on a journey to the past with an adaptation of the movie premiering on Broadway, it's worth revisiting the objective and correct fact that Dimitri was 1997's sexiest man alive (sorry, Clooney). Those bangs! Those bushy eyebrows! He was a commoner in love with royalty, and I was but a wee tyke hopelessly in love. A gentleman and a rascal, Dimitri was a supporting character worth swooning over, and his greatest asset? John Cusack's voice.
Are there awards for voice acting? Because Cusack certainly deserves one. He's not doing a character voice like Bradley Cooper as Rocket in Guardians of the Galaxy, and he's not playing a role molded after his real-life persona like Don Rickles as Mr. Potato Head in Toy Story (another great bit of voice work). Dimitri's voice isn't deep or stereotypically manly. It sounds familiar and mature. Not intimidating, but warm. Meg Ryan's voice is uniquely melodic as the titular Anastasia, and Cusack's voice is a perfect foil. Can a voice sound like what it feels like to be tucked into bed with a glass of discount Malbec, or is that just my imagination? Too many animated beaus sounded gravelly (Beast) or boyish (Aladdin). Dimitri sounded regular: nervous, irritated, a little sly.
It helps that Dimitri was a cartoon character with mannerisms. He slouched, and leaned into conversations. It all fit his very '90s rom-com nice-guy arc: He talks like a salesman out to exploit an opportunity. "She's the real thing, Vlad," he whispers to his fellow scammer. But "princesses don't marry kitchen boys." Is it possible to have a crush on someone's enunciation? The voice works because it's a perfect match for Dimitri as the cynical leading cartoon man: As the palace's former kitchen boy, he's always been royalty-adjacent. Any Dimitri on Broadway can channel the character's coolness, but only Cusack could play a cartoon heartthrob.
Heart don't fail me now, courage don't desert me, don't turn back now that we're here: It's 2017 and it's totally normal to admit that cartoon John Cusack was a babe. Is it too late for Anastasia to go through another bout of short-term memory loss? We've still got time for a sequel.