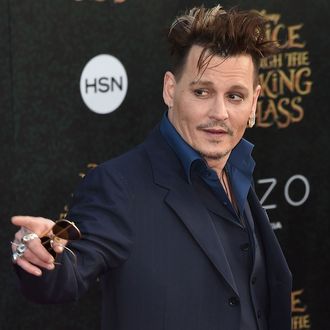 Hey.
Photo: Robyn Beck/AFP/Getty Images
It's almost endearing, the way Johnny Depp seems totally unable to tell time. While filming Pirates of the Caribbean: Dead Men Tell No Tales, the star was always late arriving on set. But he wasn't brunch-late, where there's an implied 15-minute window of acceptable lateness, or the level of late that warrants an "around the corner!" text when you've really just left your front door, which, as an often late person, I find acceptable. Depp was chronically late, sources on set told The Hollywood Reporter. He was so regularly late to filming that it affected the whole production:
Still, sources close to the production report tales of excessive drinking, physical fights with [Amber] Heard and constant lateness on set, which often left hundreds of extras waiting for hours at a time. Time and again, Bruckheimer, an assistant director and a flotilla of Disney executives led by production chief Sean Bailey were forced to huddle and debate how to handle their star's tardiness. "He's not a morning person," quips one member of that group.
It doesn't seem like there are many scenes you can film without Depp's Captain Jack Sparrow, so his tardiness affected the whole production. "There were certainly days when our plans were challenged," Bailey told THR. To accommodate Depp's tardiness, a production assistant was stationed outside Depp's house in an unmarked car, charged with announcing when the star was finally awake.
"When he got up, he'd turn on the light, and the moment the light went on [the PA] would call the line producer, who would then call the directors [Joachim Ronning and Espen Sandberg]: 'He's up! He's getting ready!' " says an on-set source. "They even had a special code term, like 'The eagle has landed.' Johnny had no idea this was going on."
Depp's lateness caused some behind-the-scenes drama between his agent and Pirates producer Jerry Bruckheimer (that Bruckheimer denies). By the time Depp arrived on set, THR's source says, he was totally charming. "Everyone was an innocent bystander watching this train wreck," the source recalled. "But when Johnny came on set, he was charming, nice. He's yin and yang." In the time since Pirates filmed, Bruckheimer says, Depp has changed his ways: "He just finished Murder on the Orient Express and was on time every day."