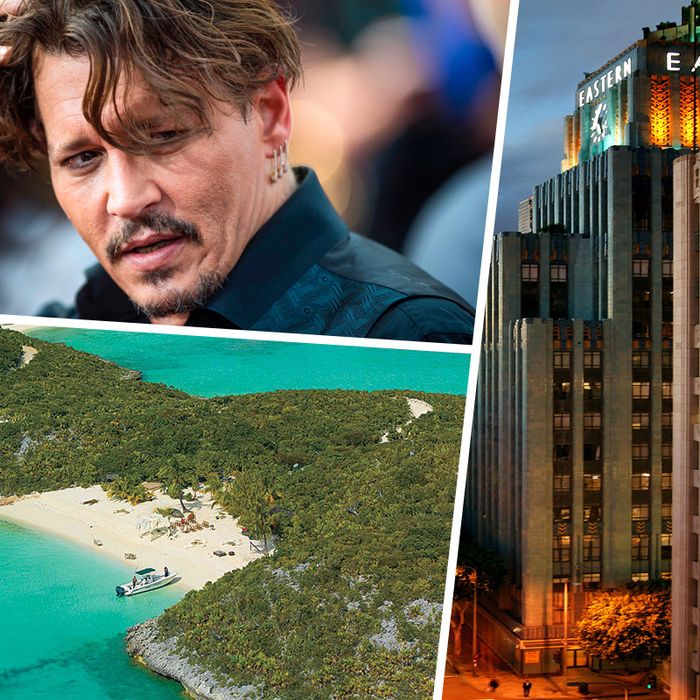 Photo: Johannes Eisele/AFP/Getty Images
For the past month, the world has been privy to — nay, blessed with — an inside look at Johnny Depp's personal finances. Hot off the heels of his divorce from Amber Heard, Depp is suing his former wealth managers, the Management Group (TMG), saying he has been "the victim of the gross misconduct of his business managers." TMG has countersued, a move that has resulted in them spilling every single drop of tea that could possibly be spilled about the Pirates star's loot. According to TMG's filings, besides incidental expenses like paying $3 million to launch Hunter S. Thompson's ashes from a cannon, Depp has also spent $75 million on 14 different properties.

By Vulture's count, Depp definitely sold one property — a Kentucky horse farm he bought for his mother — nearly two decades ago. (Because of how long ago the sale was, it will not be included in this list.) But of the other 13 properties — which include mansions, penthouse apartments, a yacht, and an island — which is the best? Which is the lamest? And which is most befitting the actor's eccentric lifestyle?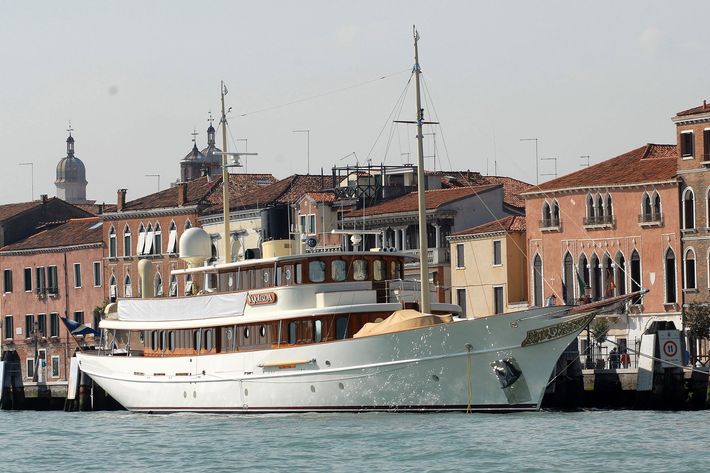 13. The yacht
This is quite possibly the tackiest yacht on the planet, which would bring its ranking to No. 1, except for the small fact that Depp does not still own it. Once named Vajoliroja for Vanessa and their children, the actor's yacht received millions of dollars in renovations to perfect its Eyes Wide Shut–ready interiors. (Its current owners now boast that they're "bohemian," but, in the more accurate words of Vanity Fair, they're really "Orient Express by way of Parisian brothel").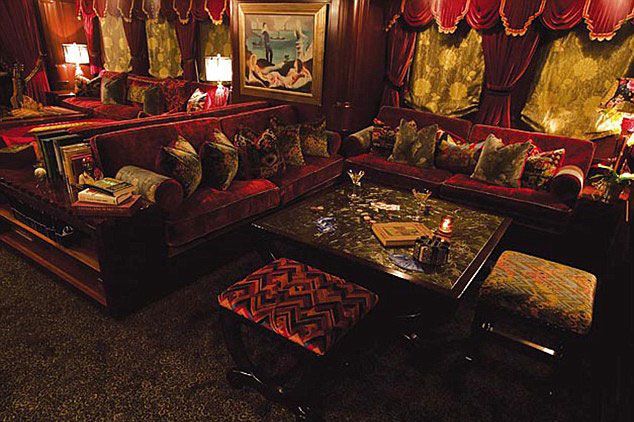 The yacht was renamed Amphitrite when Depp gifted it to ex-wife Amber Heard, but he eventually sold it to J.K. Rowling. (Brad and Angie reportedly used the yacht to vacation during their better days.) Do you have a lot of cash, a velvet and wood-paneling fetish, and desire the life of a pirate? Good news, the vessel is available to rent. A humble suggestion to Johnny, though: Please take your inevitable Pirates of the Caribbean: Dead Men Tell No Tales bounty, and buy back this yacht. Please.
12–8. Hollywood Hills
Depp owns a handful of homes on the same cul-de-sac in Los Angeles's Hollywood Hills. In February, there were rumors that he was keen on building an underground tunnel to connect them all, but couldn't get his hands on the cul-de-sac's sixth home because of a pesky neighbor. These five homes rank as the lamest Houses of Depp: Who doesn't have a home hidden among the Hollywood Hills these days?
(It's unclear from TMG's filings if one of these houses include the "Sorry I Made The Rum Diary and Left You for Amber Heard" parting gift — a $4.4 million home Depp bought for ex-partner Vanessa Paradis.)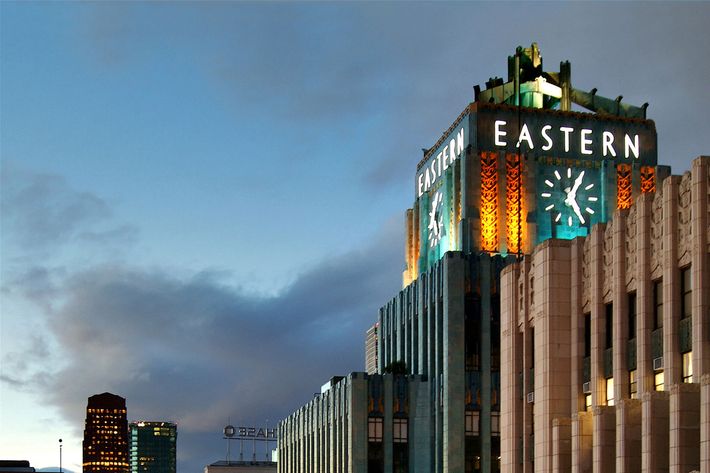 7–3. Downtown Los Angeles
About ten years ago, Depp acquired five penthouse apartments atop DTLA's luxe Eastern Columbia Building for about $7 million. Instead of consolidating the adjacent multilevel penthouses into one nine-bedroom and 14-bathroom massive unit, Depp preferred to keep the adjacent apartments separate and live in them "like rooms in a home," his listing agent told The Wall Street Journal.
Depp put all five on the market in fall 2016, but he's only sold only two so far. In classic Depp decor style, every room has an aesthetic we'll politely call "technicolor bohemian."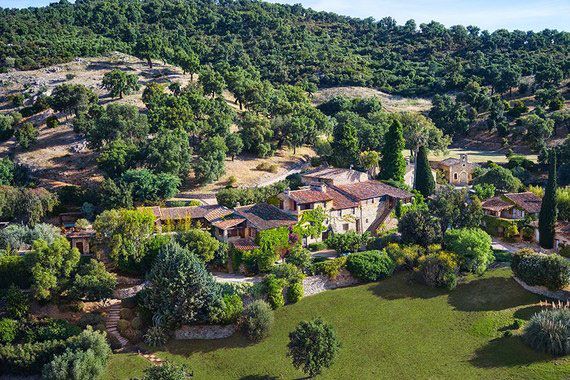 2. Plan De La Tour, France
The France house isn't just a house, it's a full compound. Located about ten miles outside of Saint-Tropez, the 37-acre spread has a 4,300-square-foot main house with five bedrooms and three-and-a-half bathrooms, according to Variety. It comes complete with a small provincial French village, bringing its total bedroom count to 15 bedrooms and 14 bathrooms. A deconsecrated church is in use as a guesthouse, with the confessional converted to a closet. There's also a private restaurant called Café Marcheline. The property was relisted in 2016 for about $63 million.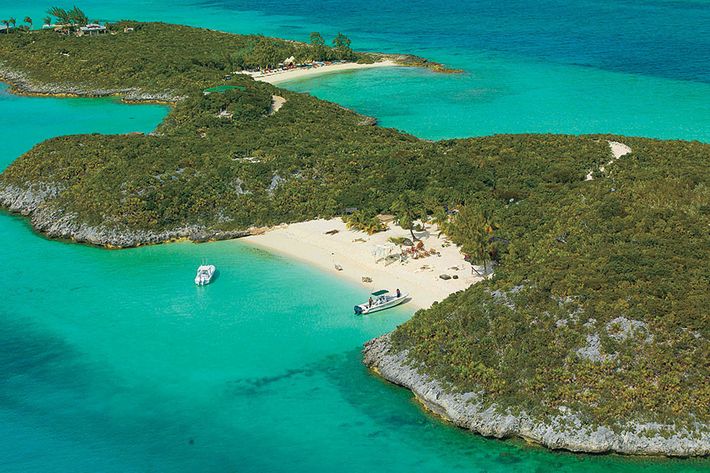 1. Little Halls Pond Cay, the Bahamas
"In this particularly calibrated paradise, every detail has its subtext — of Depp's own devising," reported Vanity Fair when the magazine was invited to spend time on Depp's personal paradise. One of those details is "a long-abandoned Haitian-refugee skiff," which lies on the Lily Rose Beach, named for Depp's daughter. As the magazine put it, "The relic is a reminder that the dreamy Caribbean, for all its dazzling, blue-green hues, has always swelled with menace and mystery and broken lives." Little Halls Pond Cay's has assorted residences and five other beaches. (One is named for Marlon Brando, another for Hunter S. Thompson.) Depp bought the solar-powered 45-acre island for $3.6 million in 2004. "I don't think I'd ever seen any place so pure and beautiful," the actor told Vanity Fair. "You can feel your pulse rate drop about 20 beats. It's instant freedom." We'll take his word for it: This is Johnny Depp's best purchase.