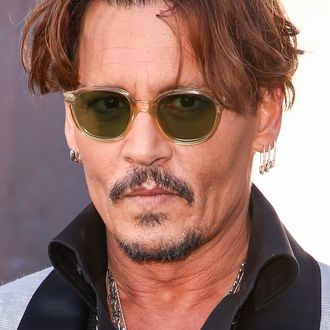 Depp.
Photo: Rich Fury/Getty Images
More money, more problems, and now more squabbling. A whistleblower has emerged to defend Johnny Depp in his lawsuit against his ex–money managers for mishandling his millions, and their subsequent countersuit against him. In a newly unsealed deposition from March, ex-TMG account manager Janine Rayburn said she believes the Pirates star wasn't made aware of his massive debt due to TMG oversight, and claims TMG principals Joel and Robert Mandel let Depp's sister Christi Dembrowski (also the head of his production company) spend his money unchecked because they were intimidated by her.
"I do not believe that Johnny was aware of his financial situation," Rayburn testified, according to The Hollywood Reporter. "To my knowledge, financial statements were not sent to him." In handwritten notes she took before being fired by TMG in 2010, Rayburn wrote that she was instructed to notarize Depp's signature on a financial document when he wasn't present. She also called Dembrowski a "nasty bitch," and said that the Mandels allowed Depp's sister to use his money for personal expenses — her daughter's wedding, vacations, and a new pool — because they were afraid of her. Rayburn said when she asked Dembrowski about the spending, her response was, "He's my brother. My money is his money. His money is mine."
TMG tried to keep Rayburn's testimony sealed. They dispute her written account and testimony, calling her a "serial liar" and the claim that the Mandels were afraid of Dembrowski "absurd." "Under cross-examination, Janine Rayburn fully admitted that she was not part of the team at TMG that created Depp's financial statements and that she has absolutely no personal knowledge regarding what TMG told Depp about his finances," TMG attorney Michael Kump told THR. "Depp's reliance on Rayburn's highly speculative statements is ridiculous. Indeed, the one conversation Rayburn claims to have overheard while at TMG confirms that Depp and his closest advisors have been discussing Depp's tremendous spending problems for at least a decade." Depp's case will go to trial in 2018, which gives him more than enough time to recoup some cash from another Jack Sparrow outing, or maybe just some more surprise park appearances.