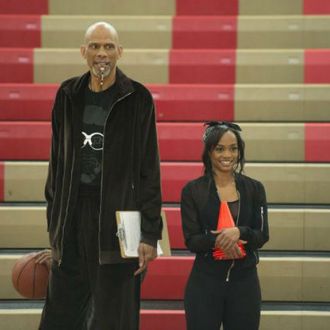 Kareem Abdul-Jabbar and Rachel Lindsay.
Photo: ABC
After openly criticizing The Bachelor just a few months earlier in an op-ed for The Hollywood Reporter, Kareem Abdul-Jabbar came in for the assist in last night's episode of The Bachelorette as an all-star fan of Rachel Lindsay's. The iconic athlete helped Lindsay find romance by setting up a basketball challenge for the remaining suitors. Despite his belief that the reality franchise depicts an unrealistic and troubling depiction of romance, Abdul-Jabbar was pleased to see the show tackle another one of its long-running problems, a lack of meaningful diversity. The series tapped Lindsay to be the first black Bachelorette after Nick Viall ultimately rejected her earlier this year on The Bachelor.
The basketball legend, who says he's a "fan" of the series even if it is problematic, was impressed by Lindsay on The Bachelor, where she was a semifinalist. "Rachel distinguished herself as intelligent, athletic, playful, witty and emotionally mature," Abdul-Jabbar wrote in another guest column for THR. "She also happened to be black." He then continued to compliment Lindsay, while throwing plenty of shade at Viall: "I was relieved she wasn't chosen by Nick because, let's face it, she was too good for him. She was smarter, wittier, funnier and more mature than he was, which I suspect he realized and is the reason he didn't select her." Sounds like somebody's hoping for an honorary rose.