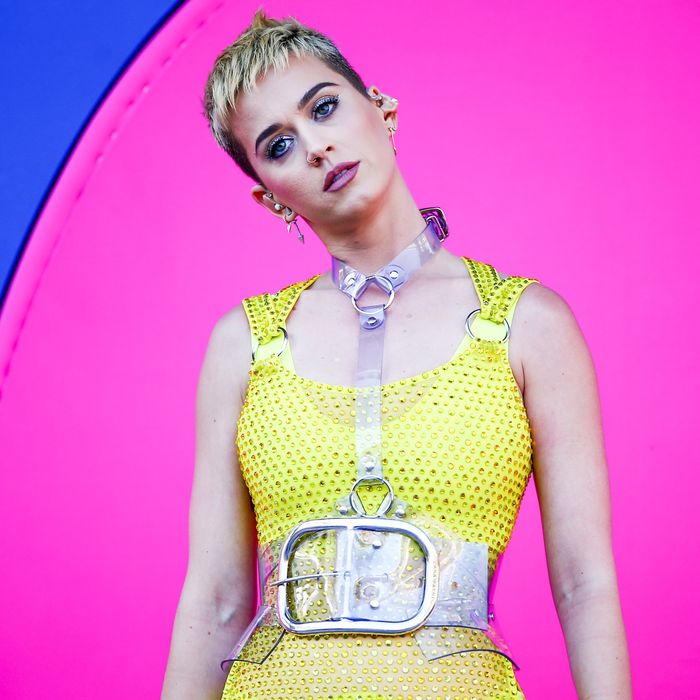 Photo: Rich Fury/Getty Images
The only time Katy Perry made me cry was during her 2012 documentary, Katy Perry: Part of Me. Worn down from the stress and exhaustion of her California Dreams Tour and returning home to be with her then-husband Russell Brand between tour dates, Perry broke down in tears before she had to perform. Perry has spoken openly about the fact that when they were together Brand wanted children and she, ten years younger than him, wasn't ready. On December 31, 2011, in the midst of her tour, he reportedly texted her that he'd filed for divorce. As the film ended with the triumphant breakup anthem, "Part of Me," I found myself emotionally struck by the lyrics: "This is the part of me that you're never gonna ever take away from me." It wasn't her Lemonade, but it was as close to self-examination as Perry has ever managed.
As her fifth studio album, Witness, looms, I've increasingly wondered if we'll ever see that Perry again. "Part of Me" is arguably Perry's best song. It has an addictive, pulsating beat courtesy of Max Martin, and its kiss-off-to-an-ex lyrics are the type that have propelled many a pop star to dance floor domination. But what's striking about it is its association with Perry's divorce from Brand, which gives it a real sense of gravitas. Perry sells the emotion behind the song, and if you doubt her sincerity, well, there's an entire documentary for you to see that no, this shit is for real. As for the rest of her catalogue … I have doubts. Take her recent foray into "purposeful pop" as she calls it, which began with "Chained to the Rhythm," then took a sharp detour with the release of hip-hop laced, club-ready songs "Bon Appétit" and "Swish Swish." Woke could certainly work for Perry. She's not the first pop star to use social commentary as an aesthetic (there's Madonna's "Like a Prayer" video for instance, although that played into Madonna's oeuvre of pushing American buttons and conservatism), but the whiplash of Perry capitalizing on her late-season campaigning for Hillary Clinton with claims of woke pop to rapping about Migos metaphorically eating her out shouldn't be surprising to anyone who's followed her career.
Raised in a Pentecostal Christian family in Santa Barbara, Perry's first foray into the music industry was as Katy Hudson on a self-titled Christian rock album. The album flopped, which led Hudson to take the name Katy Perry and flee to Los Angeles, where she recorded her 2008 album One of the Boys. The first single "I Kissed a Girl" was a massive hit, as was the follow-up single "Hot n Cold." She'd tossed off her church robes for the more commercially appealing garb of faux-lesbianism and a pinup girl aesthetic. This isn't a knock on Perry's maneuver. Most of music's successful artists began their careers singing in church, and Perry's origin story closely resembles that of disco queen Donna Summer, who bailed on her Boston church to tour in a production of Hair and record the erotic anthem "Love to Love You Baby," complete with 22 simulated orgasms. But "I Kissed a Girl" was rightfully knocked as queerbaiting that clashed with another album track, "Ur So Gay."
After the success of One of the Boys, Perry continued her foray into pop with 2010's Teenage Dream. Centered around partying and the pleasure of being a bikini-clad beach babe, the album went on to tie Michael Jackson's Bad as the second album in history with five No. 1 singles from the same album. There's no denying that it's one of pop music's highlights of the last decade, but even then, Perry has a hard time selling the aesthetic. The inspirational anthem "Firework" starts off with the maudlin and embarrassing American Beauty reference, "Do you ever feel like a plastic bag, drifting through the wind, wanting to start again?" and her dips into hip-hop were questionable at best. "California Gurls" featured a verse from Snoop Dogg — who was gladly lending his voice to every pop star in need of a hit and some crossover potential in the mid to late 2000s (hello Pussycat Dolls and Justin Timberlake) — and the single "E.T." was later released with a Kanye West verse. Rather than feeling like organic collaborations à la Mariah Carey's profitable '90s remixes, Perry's hip-hop dabbling feels increasingly thirsty.
When she didn't have Juicy J (on "Dark Horse") rapping about how Perry would "eat your heart out like Jeffrey Dahmer," as if the cannibalism of gay adolescents by a serial killer was a turn-on, she was busy fending off accusations of cultural appropriation while she sported gold grills in her mouth or cornrows and a sassy attitude like she was Mad TV's Bon Qui Qui. Even now, as she claims to be ushering in the era of wokeness with her bang-the-suburbia-doldrums anthem "Chained to the Rhythm," she undercuts it with lyrics like "got me spread like a buffet" or bragging about her "world's best cherry pie." (Her vagina, in case you didn't catch the subtleties!) I'm not here to knock Perry for employing sexual agency in her songs, because that's certainly a message that could go hand in hand with "purposeful pop." Even the aforementioned Lemonade juxtaposed the liberation themes of "Freedom" with Beyoncé warning her lover that she could dump him and "bounce to the next dick." But Perry's hip-hop songs always have an air of desperation, with an added feature from a rapper to get crossover appeal. And for someone who has worn black culture as a mask multiple times and been called out on it, the tone deafness of Perry being served up on a platter for three black men to dine on is overwhelming.
If anything, Perry is most believable when she's being petty. There's real heartbreak in "Part of Me," for sure, but the reason breakup anthems work is because you're reminding your ex how much better your life is without them. And if the song wasn't enough to convince Brand, she made it the name of her documentary and put his callousness on display for millions to watch. It's similar to another one of Perry's songs, the rather underrated "Circle the Drain," which is allegedly inspired by her relationship with Gym Class Heroes front man Travie McCoy. Focusing on his drug addiction, she belittles his need to get wasted and penchant for falling asleep during foreplay. This is pettiness of the highest order and Perry excels at it.
It's also why Perry is more emotive than she is in most of her songs when she shades Taylor Swift on Twitter, ranging from tweeting "Watch out for the Regina George in sheep's clothing …" and chiming in on Swift's 2015 beef with Nicki Minaj over VMA nominations. Although for someone who claims to embrace hip-hop culture, Perry has learned very little from it. Just this summer, Nicki Minaj and Remy Ma proved that women can profit off a good hip-hop beef with their respective singles "No Frauds" and "ShEther." Being an artist is about putting your pain and heartache to paper, and the fallout of a friendship should be as fair a game as a breakup with an ex. But when Minaj joins Perry on the alleged Swift diss track "Swish Swish," it falls flat.
Calling it a diss track is generous. It's more of a subtweet that fans can pretend is a diss if they want, but there's no real passion behind it. It is mostly made up of subliminal references to haters over a beat a DJ can easily transition into "Truffle Butter" (Nicki remains the generous queen). Admittedly, it's the strongest of Perry's Witness releases thus far, but once again, hip-hop as Perry's lane is really unbelievable, not to mention her sudden use of black gay ball culture in her recent SNL performance — all the while inexplicably needing a co-sign from Migos, who've expressed homophobic rhetoric in the past. The desperation for hip-hop cred even as it clashes with your inclusivity message is as far from "purposeful pop"as you can get, so what are we even doing here? Why create a narrative around an album then fail to follow through, unless you were only using that narrative to garner buzz? The entire lead-up to Witness seems designed to capitalize on past beefs and her political allegiances without doing any of the hard work on the tracks themselves.
Most interpretations of her songs are just that — interpretations, because the writing has so far been too nonspecific and frigid. Perry seems like she's throwing everything at the wall in an album marketing meeting and waiting to see what sticks. It makes her as believable singing "purposeful pop" as she was being a hip-hop diva, as she was telling you she kissed a girl and liked it.
The tagline to Part of Me, was: "Be yourself and you can be anything." But five years later, I'm still not sure who she is.
Katy Perry's also given some oddball interviews in 2017.