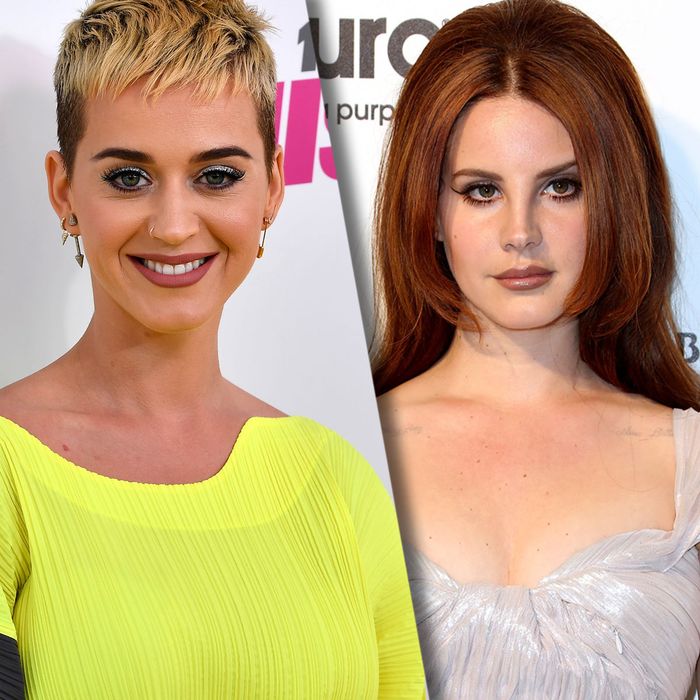 Katy Perry and Lana Del Rey are taking different approaches to wokeness.
Photo: Frazer Harrison/Getty Images/Frederick M. Brown/Getty Images
Pop music has two practical applications now: It makes good times feel great, and it makes bad times feel bearable. The stars who last are the ones able to tap the pulse of the culture and fine-tune their music to it. This is how Michael Jackson gets from "Rock With You" and "Pretty Young Thing" to "Man in the Mirror" and "Heal the World." In the last three years, the ambient feeling of the 2010s has crept from complacency to open anxiety, but with a few strong exceptions, you wouldn't know it from a spin through radio. The Chainsmokers, Drake, and Rihanna sell impossibly catchy songs about heartbreak and desire, examining interpersonal relationships with laser focus, but rarely ever touching on politics — RiRi's noble "American Oxygen" single notwithstanding.
It's no small coincidence that the North American stars with the greatest cultural cachet at the moment are Beyoncé and Kendrick Lamar: Their last few albums struck a balance between hard personal reflection and righteous indignation over state injustice at a time when youth were becoming newly politically active around the Black Lives Matter movement and the 2016 presidential election. Songs like "***Flawless," "Alright," "Formation," "Freedom," and "DNA" proved you could speak your mind without palpable harm to your career, that the call for a new enlightened pop music that blends social awareness with gripping hooks and production outstrips whatever cable news and conservative audience blowback exists for pop stars who dare to "get political."
It is also no surprise that in 2017, popular music is becoming something of a mad dash toward wokeness. Nearly all the big-ticket pop albums on the calendar this spring are coming from stars in need of reinvention. Katy Perry, Miley Cyrus, and Lana Del Rey are singing about the desire for music that edifies both mind and body, and speaks to the increasing demand for pop stars who are also enlightened world citizens and voices for the disadvantaged. But it feels like these stars are shifting gears out of duty rather than genuine interest. That they're all having a hard time with it speaks to both the value of locating and sticking to your specific creative ministry and to the precariousness of speaking out in a public forum.
Katy Perry was first in line at 2017's woke pop party. To hear her tell the story, she coined the term "purposeful pop" around the late-winter release of the single "Chained to the Rhythm," hoping that "a song that starts conversations" could warm a climate of fallout from an acrimonious election. As a radio single, it's a slick exercise in smooth singing and thumping French house. As a statement of purpose, it leaves much to be desired. The song's goofy slave metaphor and the presence of the obligatory Marley descendant Ky-Mani feels pat. The lyric about music that doesn't switch on the lights upstairs is just as applicable to Katy's own history of delightful, confectionary pop as anyone else's.
Ineffectual messaging isn't a crime in the court of public opinion, but when wokeness is your stated aim, thoughtlessness is the result: Perry recently found herself in hot water for a tasteless Barack Obama joke and her choice of Met Gala dress, a blood-red gown from Hitler-sympathizing Maison Margiela director John Galliano. Both gaffes brought back Perry's florid history of cultural dress-up and raised questions about the seriousness of her social-justice initiative. Tellingly, the follow-up to "Chained to the Rhythm" is "Bon Appétit," a ditty about getting "spread like a buffet" with verses from guests the Migos.
Katy isn't the only singer reverting to old ways this spring. Miley Cyrus just released the new single "Malibu," the first move in a campaign to bring the country turned R&B turned psych star back to her roots, both literally and figuratively. "Malibu" is a heavy-handed reboot, Miley barreling back into country-pop after two years partying with Southern rap figureheads Juicy J and Mike WiLL Made It, and another two smoking pot and dropping acid with the Oklahoma mystics in the Flaming Lips. The "Malibu" video's symbolism is thick: Miley's curly brunette roots have overtaken the bright blonde mop of the Bangerz epoch. Every outfit is blinding white, every scene subdued and rustic. The pivot was explained in a Billboard chat where Cyrus said lurid misogyny is the reason she doesn't listen to rap anymore. It's a curious stance for her to take, as someone whose garish stage and award-show antics are singularly responsible for introducing twerking to middle America. Longstanding suspicions about her use of hip-hop culture as an accessory suddenly seemed confirmed, and fans pushed back. Miley's single is ultimately refreshing, and her message isn't without value; but it's hard to receive a harsh word from someone who hasn't lived it.
Miley could learn a lot about subtlety from Lana Del Rey, whose art is, at root, a smart study of contrasts. Lana mixes traditional American iconography with stories of decay, quietly evoking David Lynch's Twin Peaks and Jacqueline Susann's Valley of the Dolls, two series about the secret horror of idyllic locales. Lana wants to bring more to the table with her new Lust for Life, and this year, she's become a more outspoken celebrity in her own delightfully quirky way, from joining a group of witches in casting a spell on Donald Trump to writing a song about troubling international news reports. In the new "Coachella – Woodstock in My Mind," Lana trains her gaze on the world around her rather than broadcasting her inner struggles as universal interests. It's an affecting bid for peace, but also a trite one.
Woodstock was a place to peacefully gather and temporarily escape the fear of war and the draft through drugs and music. Coachella is increasingly becoming a place young people go to be seen, get fucked up, and be seen getting fucked up. Lana's "Coachella – Woodstock" creates beautiful imagery, with all her words turning into birds and fluttering out over flower crowns at a Father John Misty show, or whatever, but "Coachella – Woodstock" also falls into the "Chained to the Rhythm" trap of suggesting that the act of thinking differently is profound, when it's the conclusions she will arrive at as a result of her soul-searching that hold the real value.
The hippie movement is actually a great case study in the intersection of pop music and activism. Listen to Joni Mitchell's "Woodstock." (Yes, she famously missed performing at the festival she wrote the definitive song about.) "We are stardust, we are golden, and we've got to get ourselves back to the garden." Listen to Crosby, Stills, Nash, and Young calling out police in the wake of the Kent State shooting in "Ohio." Listen to Bob Dylan skewering government warmongering on "Masters of War." 2017's ambitious pop crop could wield this same power if they wanted. But do they?