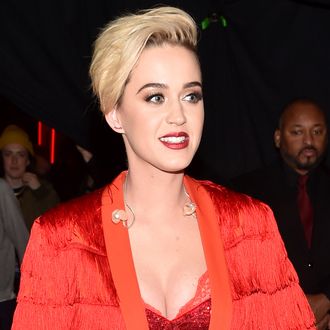 Katy Perry.
Photo: Frazer Harrison/Getty Images for iHeartMedia
Katy Perry does not want to talk about Taylor Swift and any possible bad blood they might have. She feels so strongly about it, in fact, that if you ask her directly she will give you a pretty long answer about how her new music is in no way a clap back to the famed Swift track. In a new interview with Entertainment Weekly, Perry is asked, "Does this album have a reaction to 'Bad Blood?'" She starts her response by saying, "There is no one thing that's calling out any one person," and the rest of her answer runs the gamut from female empowerment to fostering mutual understanding between disparate view points to a clear warning that you better not come for Katy Perry. Ever.
One thing to note is: You can't mistake kindness for weakness and don't come for me. Anyone. Anyone. Anyone. Anyone. And that's not to any one person and don't quote me that it is, because it's not. It's not about that. Honestly, when women come together and they decide to unite, this world is going to be a better place. Period end of story. But, let me say this: Everything has a reaction or a consequence so don't forget about that, okay, honey. [Laughs] We got to keep it real, honey. This record is not about anyone else! This record is about me being seen and heard so that I can see and hear everyone else! It's not even about me! It's about everything that I see out there that I digest. I think there's a healing in it for me and vulnerability. If people want to connect and be healed and feel vulnerable and feel empowered and strong, God bless and here it is.
So, Perry's new album isn't about one person. It's not even about anyone else. It's about "being seen and heard," but definitely do not interpret that empathetic spirit as weakness. God bless.