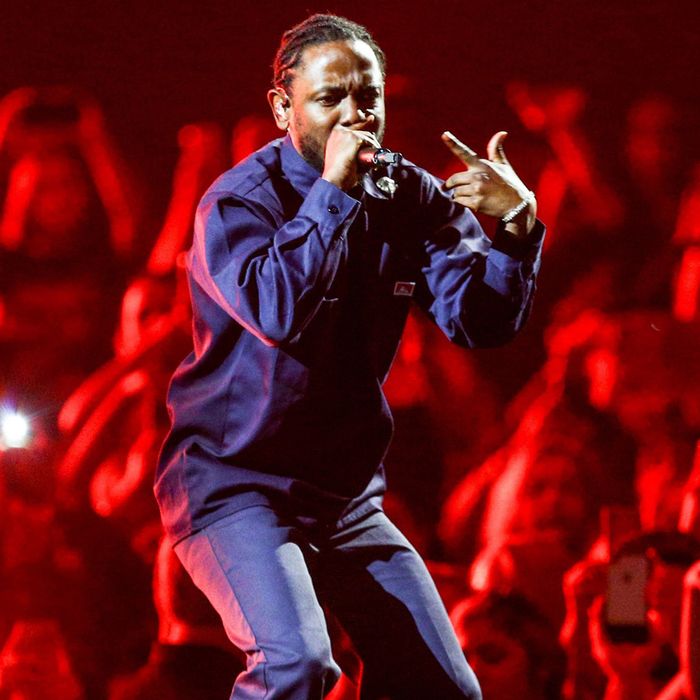 Kendrick Lamar.
Photo: Handout/Getty Images
On "Fear," DAMN.'s longest, most deeply involved track, Kendrick Lamar looks at his past as a way of taking stock of who he is now. It's a storytelling device he's deployed before: More often than not, he's traveling backward in time, blending the art of rap with the act of remembrance. All of his songs take, to some degree, the weight of heritage as their subject, and even when he's most in the present moment, as on 2015's To Pimp a Butterfly, he's looking to the past to guide him: that album, after all, ends with a conversation with Tupac. "We ain't even really rapping," Tupac informs his spiritual descendant. "We just letting our dead homies talk for us," which happens to be precisely the case right then and there; "Damn," Kendrick replies, struck by the observation.
"Mortal Man" is the name of the track, but what Tupac's speech suggests is that some measure of deathlessness is possible through language. "In the beginning was the Word, and the Word was with God, and the Word was God," begins the Gospel of John, transforming into a universal principle the belief, manifested literally in the Old Testament, that the word of God may be recorded and passed down through the generations in the form of a book. It's this belief, among others, that Kendrick, never shy about his Christian faith, has taken on as his own: "I'm an Israelite, don't call me black no more," he declares on "Yah," a song on the new album. The title refers to the first half of Yahweh, the Hebrew name for God. It's an early sign of a direct engagement with the grand and painful spirit of the Old Testament that comes to fruition in "Fear."
The track commences with a phone recording from Kendrick's cousin Carl, in which Carl answers his worries, voiced elsewhere on the album, that no one is looking out for him by quoting the book of Deuteronomy: "The Lord shall smite thee with madness, and blindness, and astonishment of heart." If Kendrick is suffering, it's an affliction sent by God to chastise him for his imperfect faith. Carl's recording is followed by a refrain regarding the question how a loving God could permit human suffering: it's reminiscent of the book of Job, though the last line ("Earth is no more, why don't you burn this mo'fucker") owes more to Revelation. The refrain is then replayed backwards: We're literally carried back into the past, but the experience leaves us submerged in chaotic sound.
Defined by a careful progression in which calls, responses, beliefs, and doubts are tightly woven into one another, "Fear" is a showcase of Kendrick's rhetorical genius. Knowing that the subject matter may seem too distant or ancient as is, he quickly gets visceral in his first verse. The idea of tough love from a supreme being manifests in a personal memory: "I'll beat your ass," he says, repeating his mother's recitation. Seven-year-old Kendrick is liable to suffer corporal punishment for even the slightest deviation from her instructions: "I'll beat your ass if you jump on my couch / I'll beat your ass if you walk in this house with tears in your eyes." Her maternal affection has fused with an urgent need to toughen him for a world she knows will have no pity on him. She's afraid, too.
If he suffers, the thinking goes, let it be from someone who loves him, and let him suffer in the hope that he suffers less later. One verse and ten years later, we see how much his mother's efforts have shaped him. Seventeen-year-old Kendrick is tough enough to fend for himself, but he's also smart enough to know that his life is often out of his hands: "I'll probably die" is the repeated phrase, and the verse is a litany of the countless ways a poor black male adolescent in Compton can suddenly cease breathing: Whether due to encounters with enemy crews, snitches, dealers, junkies, the police, or friends, his chances of survival are slim and he knows it.
Another verse and ten more years later, he's become a newly minted celebrity by narrating his teenage life. He's close to panic: Wealth and fame have solved his material needs and lessened his chances of bodily death, but at the same time they have heightened his spiritual fears. He can't trust that anything or anyone will last because he's lost too much already, and seeing himself as a public figure, a representative, or a legend intensifies the fear of getting things wrong.
How they look at me reflect on myself, my family, my city
What they say 'bout me reveal if my reputation would miss me
What they see from me would trickle down generations in time
What they hear from me would make them highlight my simplest lines.
All these memories converge in the fourth and final verse. After a lifetime of terror, he doesn't have fears so much as fear possesses him. It's been made clear that his art is rooted in his faith, but now it's clear that his faith is rooted in his fear. His hope for Christ's return is, in more humble terms, a hope that there is something in the world other than fear, that what eventually will emerge, from a seemingly endless procession of fears, is salvation from fear. It's the flows, rhymes, and rhetoric of the "fourteen tracks, carried out over wax" of DAMN. in which he ultimately entrusts his hopes. Even if, to quote a phrase that echoes throughout the album, "what happens on earth stays on earth," the Word (which according to Kendrick's faith represents God) remains unearthly and immortal.
Of course, "Fear" wouldn't be true to Kendrick without bringing up the bigger social picture, the most problematic problem. There's an outro succinctly spelling out the doctrine of original sin followed by the resumption of cousin Carl's one-on-one Bible study: Reciting Deuteronomy, Carl states that the historical and present sufferings of the "Blacks, Hispanics, and Native American Indians," like the oppression of the ancient Hebrews documented in the Old Testament, are a punishment sent to them by God for their failure to uphold his Law.
Like its counterparts "Sing About Me, I'm Dying of Thirst" on Good Kid, M.A.A.D City and "How Much a Dollar Cost" on To Pimp a Butterfly, "Fear" is an early fourth-quarter intervention that reaffirms the artist's faith in God in the face of the doubts expressed earlier in the collection. It's a testament to Kendrick's religious genius that he discovers new ways to frame the same redemption narrative without becoming monotonous, but that doesn't mean that the conception of escaping the cycle of God's damnation itself is beyond questioning.
Kendrick is too intelligent not to know this, and he's also too intelligent to pretend that he can break out of the cycle completely, though his gestures toward Asian cultures in DAMN. — dubbing himself "Kung Fu Kenny," referencing karma on album closer "Duckworth," the Wu-Tang vibe on the "Fear" instrumental — suggest that he sees value in non-Christian belief systems. Thankfully, though, it's not his job to give final answers: DAMN. especially is marked by a recognition that, as an artist first and foremost, his task is to find dramatic expressions for pressing questions, not to dictate solutions.
The last, but far from least, thing to say about "Fear" regards its sound. Produced by Alchemist, the beat is supple and beautifully layered. A gently weeping guitar line, soul vocal sample ("I don't think I can find a way to make it on this earth"), occasional wistful strings, patient bass drums, and watery synths converge to create an impression of sweet pain that makes an ideal counterpart to the artist's somber memories and intricate considerations. It renders the song as a whole worthy of being ranked with "Money Trees," "Sing About Me, I'm Dying of Thirst," or "Alright" among the absolute best that Kendrick has to offer. It may be hard for some to trust in God or thank heaven for being alive, but religious or not, tracks like these, with their balance of memory, mortality, and hope unique to Kendrick's art, make it far easier to believe and be thankful for everything — even pain.