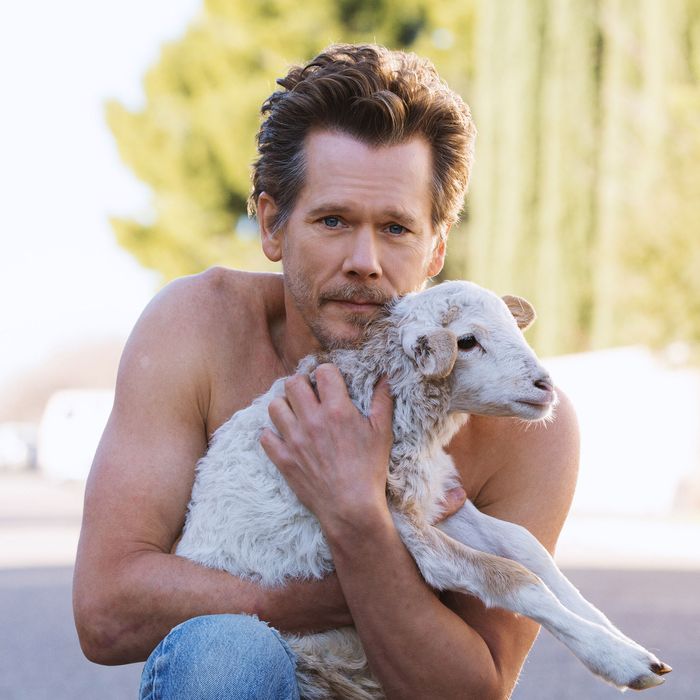 Bacon and his little lamb.
Photo: Jessica Brooks/Amazon
Much has been written about I Love Dick's female gaze but this is the story of Kevin Bacon and the little lamb gazing up at him.
In "Ilinx," the fourth episode of Amazon's new comedy, the world is gifted with an image of a shirtless Bacon walking down a street with an adorable lamb resting on his shoulders. It's a fantasy sequence — Kathryn Hahn's Chris is waiting for Dick (Bacon) to arrive at an event, and this is what she imagines it will be like as she sits on the bumper of a pick-up truck in the hot desert sunshine.
As Dick and his lamb near, he stops, kneels down, and places the lamb on the ground, sexy-cuddling it and then shaving its belly. He picks it up and cradles it up to his chest, and smiles at Chris. End of fantasy.

The short scene occurred to co-creator Jill Soloway while working on Carla Ching's script in the writer's room. "I remember the day Jill pitched it, we were all cracking up," said writer and co-executive producer Heidi Schreck. "It was a very, very funny thing."
Soloway, also the creator of Transparent, says she has no clue how the idea popped in her head but it was fully formed when it did — belly shaving and all. "It's just one of those unconscious little vignettes that comes into your mind," she said. "I don't know what that is. If you're a watcher of my work, you saw a scene in season one of Transparent where Ali (Gaby Hoffmann) and Dale (Ian Harvie) have a manly scenario in Dale's apartment and there's an electric razor involved, so it must be some recurring theme for me. We're just having fun, playing with images."
The scene was filmed on location in Marfa, Texas, when production moved there last November from Los Angeles to shoot for a week. Because of the time crunch, producers considered cutting it. "No way!" said co-creator Sarah Gubbins. "There was no way our director Andrea Arnold was gonna ditch that scene. Have you ever seen a scene like that?"
The lamb, like all animals on film sets, came with a handler, who gave Bacon thorough instructions on working with it. "Kevin was such a good sport about everything," Schreck said. "It's a crazy show for him, especially, to be objectified by all of us constantly in profound and also very silly ways. After a while, he was just like, Whatever, I'll do whatever."
The lamb, too, was a "lovely" colleague, Gubbins said. "We wanted the lamb to have a great ride. It was hilarious. The only question was — hat or no hat? We shot it both ways."
No hat won out, and, after a couple of takes, the lamb scene wrapped. It took less than an hour. "We all felt giddy," Gubbins said, laughing. "I remember looking at Jill going, What is happening? You can't believe this thing in your imagination and fantasy is actually being enacted. Kathryn loved it too. Let's be clear."
In all of her work, but especially for I Love Dick, Soloway says she spends a lot of time reflecting on Laura Mulvey's theory about the male gaze in media and how it objectifies women and empowers men. She loved how the lamb helped turn the tables on that.
"When she talks about it, she talks a lot about the triangle — it's the male director corroborating with a male viewer looking at something together," Soloway said. "So the director is saying to the male viewer, Hey, look at this with me. So in this moment, I feel like the lamb and Chris are gazing at Dick together. The lamb turns from looking at Dick's face to look at her. And I feel like the two — the woman and the animal — are corroborating on the female gaze together for an instant. Whenever we watch [the show] and we go in on the lamb's eyes, we all yell out, 'Sheep gaze!'"