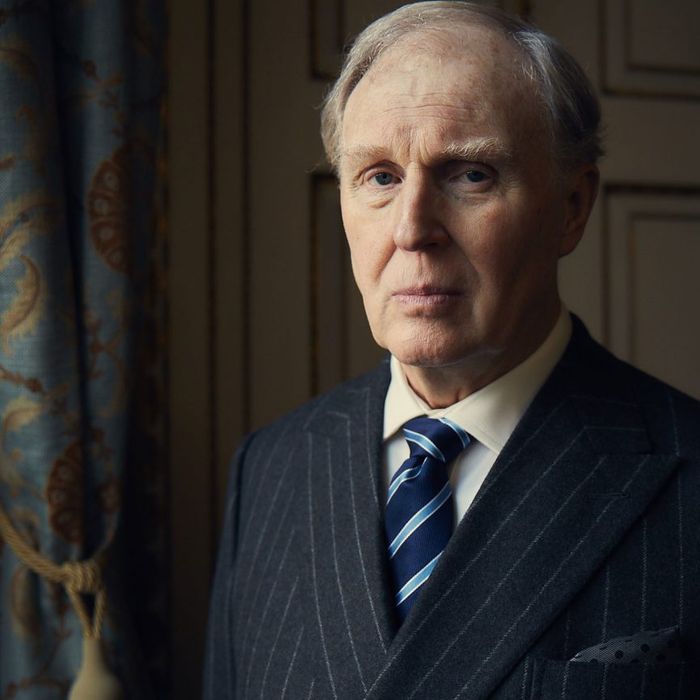 Tim Pigott-Smith as future Charles.
Photo: PBS
Unless you're religiously tuning into Masterpiece on PBS for Downton Abbey or Victoria reruns, we wouldn't blame you if the latest British import to make its way Stateside, King Charles III, wasn't on your radar this past month. But for all of the Anglophiles out there, that's a huge mistake — you need to watch the hell out of this royal drama, and you need to do it fast. You see, it's a future-history film about the ascension of Charles, Prince of Wales, to the throne after the death of Queen Elizabeth II, and let's just say it's an unflattering portrayal that doesn't shy away from depicting the heir apparent as a model of incompetence and indecisiveness. Reactions to the narrative have understandably been mixed since debuting in the U.K., although the Shakespearean usage of blank verse, as well as the marvelous production quality, gives the film an undisputed aura of sophistication despite its tabloid-y roots. Because nobody can resist some faux behind-palace-doors drama, we broke down everything you need to know.
For starters, is it based on anything?
It is indeed. It's adapted from the 2014 stage play written by Mike Bartlett, which had a relatively prosperous run in London's West End before transferring to Broadway for a few months in late 2015; it even netted six Olivier Awards nominations, winning one for Best New Play. It was very popular during its U.S. stint at the Music Box Theatre as well — it received five Tony nominations after its run.
How bad does it actually make Prince Charles look?
From the very first scene of the film — which takes place at Queen Elizabeth's funeral — things are shifted into high gear almost immediately by the new monarch, who's portrayed with deadpan delight by the recently deceased Tim Pigott-Smith. "At last," he says in a Frank Underwood-ian monologue as he breaks the fourth wall to address the camera. "My life has been a lingering for the throne. Sometimes I must confess I imagined if my mother had to die before her time, like a helicopter crash or a rare disease, so at an early age I'd be in charge, before me years of constant, stable rule." When Kate Middleton's character solemnly says at the funeral that she "never thought I'd see her pass away," Charles quips, "I felt the same."
Okay, that's not great. But he's depicted as a strong leader, right?
This is where things get a little weird. The primary source of drama stems from Charles — in order to establish himself as a politically involved ruler who won't simply be a figurehead — defying the prime minister when he refuses to sign a controversial bill into law that would limit the freedom of the press. Realistically, this is a pretty respectable (and dare we say the absolutely correct) move, especially since his late wife, Princess Diana, was killed after paparazzi chased down her car in Paris. So if anyone has a reason to limit the press, it would certainly be him. But his defiance soon sets off a series of events that quickly tarnish the goodwill he initially generated — when its made clear that the prime minister won't change the bill to fit his demands, Charles marches into the Palace of Westminster in full regalia to announce he's going to dissolve Parliament and call a fresh election, which causes a full-blown national crisis and violent rioting. And then he puts some tanks in front of Buckingham Palace, because he's suddenly scared of the people he's supposed to represent. It's all downhill from there, and a family crisis is birthed out of a constitutional one, too.
How bad does it get?
Well, his family forces him to abdicate and give the throne to William — going so far as to threaten to abandon him for the rest of his life if he doesn't — so we guess it gets pretty damn bad.
Is he the only person who's portrayed scathingly?
None of the Windsors will be thrilled with their portrayals, minus George and Charlotte. (Cute kids!) Camilla seemingly has nothing to do in her life except hang around Buckingham Palace to rag on Kate; Prince Harry is a forlorn bachelor who may or may not disavow his royal title to be with a commoner (hmm); and Kate is a cigarette-loving, Lady Macbeth–esque figure who wants nothing more than to have a queenly title and a throne for herself. Even William, the most levelheaded of the bunch, is portrayed as a bit of a bumbling fool who's dominated by his wife despite his good intentions. Oh, and the ghost of Diana pops up every now and then in the drawing room, looking fabulous.
What did viewers in the U.K. have to say about it?
Depending on news outlets you read, King Charles III has been described as everything from ingenious to downright treasonous. The Daily Telegraph, the Guardian, and the Daily Express all expressed admiration for the film, while the nicest thing the Daily Mail could muster in its zero-star review was that it was "shameful, vile, pathetic tosh." Reactions on social-media outlets were similarly mixed.
Sell it to me in one sentence?
It has the palace intrigue of The Crown, the family drama of Downton Abbey, and the frothiness of Ladies of London. There are worse ways to spend 90 minutes.