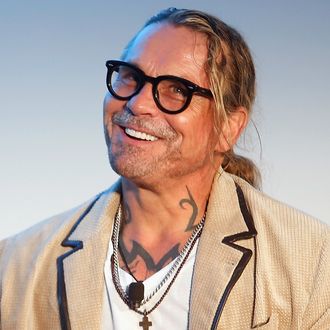 Kurt Sutter.
Photo: Thos Robinson/Getty Images for Vulture Festival
It's been two-and-a-half years since Jax Teller rode to his timely demise in Sons of Anarchy, and Kurt Sutter is steering back into the world of motorcycle gangs. The Sons creator dropped into Vulture Festival on Saturday to talk about his career, all things SoA, and the upcoming series Mayans MC. Details were sparse on the Sons spin-off, but Sutter indicated during a 90-minute chat at New York's Milk Studios that there'd be enough similarities to draw in the SAMCRO faithful while also feeling like its own unique ride.
Mayans MC follows EZ Reyes (JD Pardo), a prospect of the titular gang's chapter along the California-Mexico border. Reyes struggles with his desire for vengeance against the cartel and his need for respect from the women he loves. Battlestar Galactica badass James Edward Olmos is also in the fold, playing Reyes's father. "I look at it as the next chapter of a bigger mythology," Sutter told Vulture Hollywood editor Stacey Wilson Hunt. "The world has to feel familiar enough for people to tap into it, and yet I don't want it to feel derivative or the Latino version of Sons."
The Mayans are a Bay Area–based Latino biker group that bounced back and forth between being enemies and allies with SAMCRO in the original FX series. Emilio Rivera, who played Mayans boss Marcus Álvarez in Sons, will appear in the new series to some degree.
Sutter recently wrapped the pilot for his new series, which he directed and co-wrote with Elgin James (Lowriders). If the show moves forward, the staff and executive producers will primarily be made up of Latinos, Sutter said. He'd ultimately shift showrunning duties to James, while staying aboard as a producer. James, though, has already made a significant creative impact on the show: "He took a lot of time with those guys, and there was a lot of trust that was established that came through in the work."
Those jonesing for a Sons series with familiar names could be in luck. Sutter mentioned again he's toyed with creating a miniseries about SAMCRO's original members — known as the First 9 — which includes Jax's father, John, and the duplicitous Clay Morrow, played by Ron Perlman in Sons.