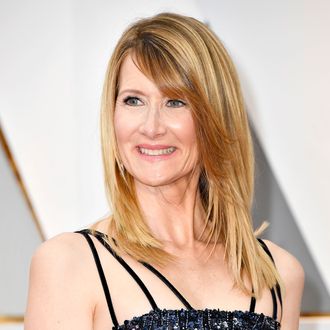 Is that you, Diane?
Photo: Frazer Harrison/Getty Images
Between traveling to space in Star Wars: The Last Jedi, intentionally mispronouncing Reese Witherspoon's character's name in Big Little Lies, and an upcoming guest spot in Unbreakable Kimmy Schmidt, Laura Dern is having a 2017 for the ages. But her most mysterious — and possibly splashiest — role will come in Showtime's rapidly approaching Twin Peaks revival. Of course, given the level of secrecy around David Lynch and Mark Frost's return to the classic TV series, we have no idea who Dern will play when she joins the cast, but Variety's cover story on the revival heavily features Dern. It also includes a few stunning photos of her hanging out with Lynch and her Blue Velvet co-star Kyle MacLachlan, who plays Twin Peaks' agent Dale Cooper, in a car. We can only hope that we're in for a whole lot of Dern.
Sadly, the only concrete detail we get about Dern's character is that "she talks about birds, at least once." "Kyle and I had several scenes, particularly in the car, when we're talking about the robins," Dern told Variety. "There's this very beautiful, hopeful poetry amidst this hellish world they've entered." Hey, remember that other David Lynch project where Laura Dern talked to Kyle MacLachlan about robins?
Now, ever since Dern joined Twin Peaks, there's been speculation that she might play Diane, Cooper's as-yet unseen secretary, to whom he dictates tapes with his thoughts on crimes, coffee, and doughnuts. While it certainly seems possible that Dern would play Diane, and that Diane and Cooper would happily chat about robins, she could reasonably be playing any number of mysterious figures in the show — fantastical or otherwise.
What we do know for certain: The series picks up 25 years later; they did return to Snoqualmie, Washington, but "certain storylines in the new season take place outside the Pacific Northwest, and the bulk of the new season was shot in Southern California," and the film Twin Peaks: Fire Walk With Me is "very important to understanding" the revival, according to Lynch. The series returns on May 21.