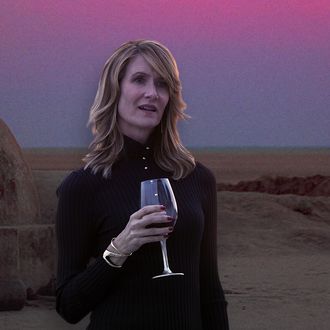 Artist's rendering of Laura Dern in space.
Photo-Illustration: Vulture
Here at Vulture, we firmly believe that if your movie includes any footage of Laura Dern in space, you should hand it over to the masses as soon as possible. You know, for the good of us all. After debuting a trailer that did not include any footage of space Dern, Star Wars: The Last Jedi has given us a first look at her space gloriousness in a Vanity Fair photo spread. It turns out Dern is playing Vice Admiral Holdo, a "prominent officer in the Resistance" who really loves the color pink. In the magazine's cover story, we learn that part of Episode VIII will take place at the Canto Bight casino, where the galaxy's Über-rich have fun. Might Vice Admiral Holdo be a regular there?
As for the other newcomers, we've also learned that Benicio del Toro plays a "shady character" who doesn't get a name in the movie, but is called "DJ" by the filmmakers, presumably because he likes to spin some space beats. Finally, Kelly Marie Tran plays the new character with the most screen time, a Resistance maintenance worker named Rose Tico who goes behind enemy lines with John Boyega's Finn. Her sister, Paige, is also a member of the resistance and is played by Veronica Ngo, and if either of them get between Finn and Poe's love story, I will throw a fit.