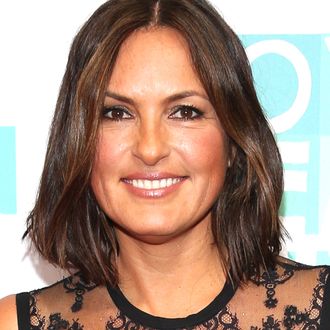 Mariska Hargitay.
Photo: Cindy Ord/2015 Getty Images
Few things are a certainty in this life, as the saying goes, beyond death, taxes, and there always being a Law & Order franchise on television. The adage remains true today as Deadline has announced that Law & Order: SVU has been renewed for a 19th season. Remarkably, only two other drama series have ever been on air as long in the history of television: the original Law & Order (whassup, Lenny Briscoe) and the OG of TV, western series Gunsmoke, which each lasted 20 seasons respectively.
The long-running NBC crime-and-punishment drama series, with feminist icon/people's detective Olivia Benson (Mariska Hargitay) as its lead detective in the Special Victims Unit (the sex-adjacent crimes of which are the most heinous, we know), enters its 19th season this fall. The fate of the series was briefly in doubt when Hargitay was renegotiating her contract, but today's announcement confirms that Detective Benson will ride again. The series remains alongside Über-producer Dick Wolf's stable of current dramas including Chicago Fire, Chicago P.D., and Chicago Med, in the NBC wheelhouse. (As Billy on the Street satirically noted, NBC recently discovered Chicago, and they love it.) Hargitay has netted eight Emmy nods for her portrayal of the strong-willed, singular Benson over 18 seasons of the show, winning one in 2008. In addition, Hargitay's charity, the Joyful Heart Foundation, has long been working toward clearing the rape-kit backlog in America's police departments. In short: Vive la SVU!