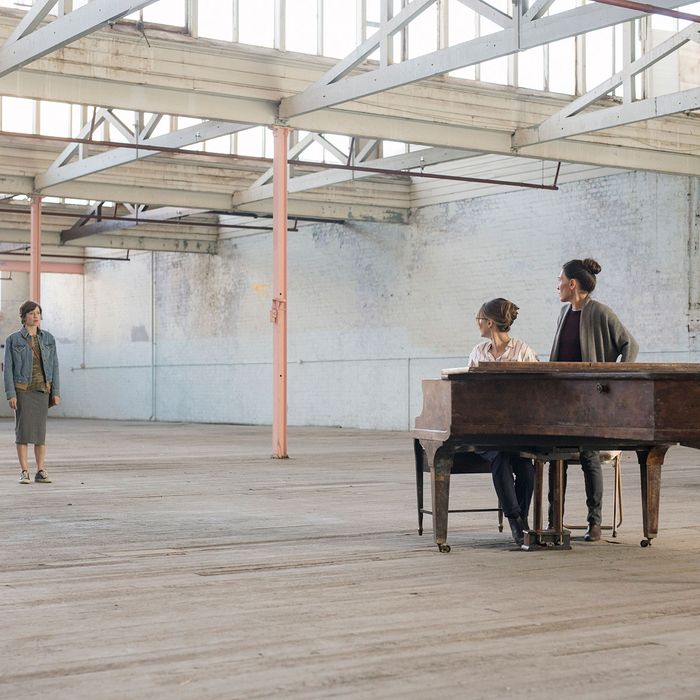 Nora meets the scientists in a former wool-storage facility in Melbourne.
Photo: Ben King/HBO
If episode four of The Leftovers has a main theme — setting aside A-Ha's "Take on Me" and Kevin and Nora's disintegration — it's Melbourne, Australia, the New York to Sydney's Los Angeles. The Leftovers settled on Melbourne as a Down Under home base for largely practical reasons — nearness to rural locations, great production offices, and enough city life to keep an American cast occupied. But the show has a way of turning seemingly arbitrary choices into core motifs.
"One of the things we talk about when we do locations is hiding it," says Alistair Reilly, the show's Melbourne location scout and an indefatigable booster of his hometown. Ultramodern complexes, Victorian row houses, inner-city alleys, beaches and suburbs could easily double for New Orleans or Orange County, Dallas or Detroit. "But when you're actually doing it for real," as The Leftovers did, "you want to take the viewer there without having a logo that says 'Melbourne.'" Reilly walked us through the iconic places where Kevin and Nora lost their way.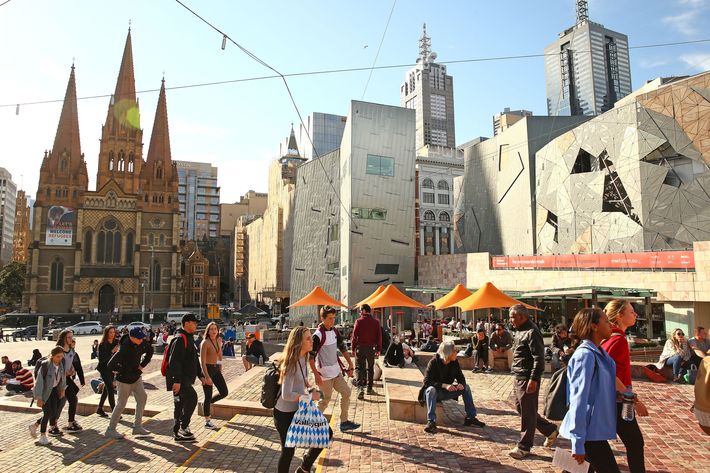 Sydney has its Harbour Bridge and Opera House, and Melbourne has this post-modern riverside mashup. Butting up against 19th-century gold-rush landmarks like Flinders Street Station is a contemporary complex of zinc and glass "shards," a multitiered plaza of urban madness that residents love to hate. Reilly found one of its buildings the ideal location for the site of the fictional G'Day Melbourne, a Today show­–style morning broadcast complete with sign-wielding gawkers. That's where Kevin spots "Evie" on his hotel TV — supposedly the Miracle, Texas, girl who was killed by drone in episode one — before hopping a cab over there. Nailing down the site took Reilly a month of negotiations, which included relocating corporate functions for free (along with a "gratuity" for alcohol) and removing man-size metal arrows that would have blocked the show's view onto the plaza. They also installed real cameras in the "studio," so when Kevin sees "Evie" on the show — and Kevin's father later sees him — both are watching a real feed.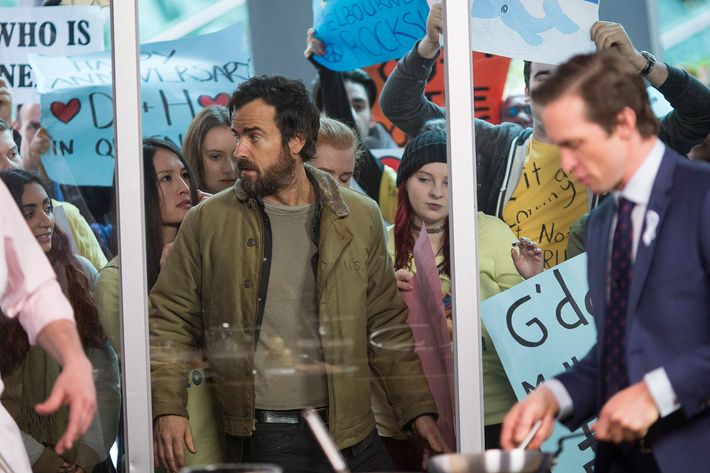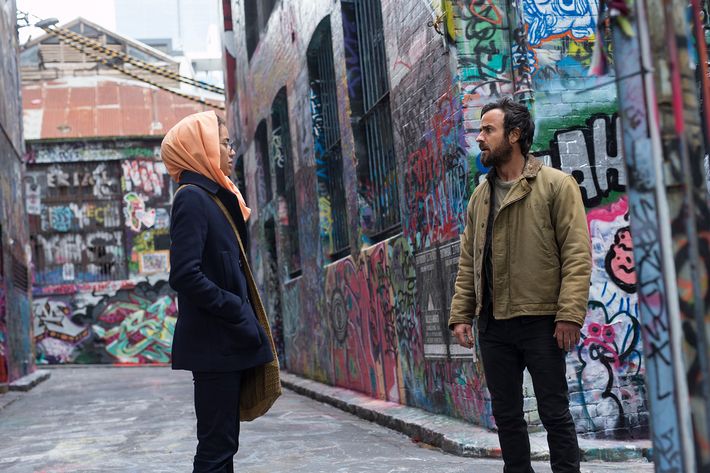 Kevin spots "Evie" and chases her into a warren of alleys splattered with vivid graffiti: Hosier Lane, another tourist attraction across the street. Graffiti is illegal in Melbourne, but tolerated in a few of its many famous "laneways" — alleys increasingly taken over by trendy restaurants and bars. American (but not Australian) law dictates that graffiti shown on-camera be cleared with the artist, who isn't always easy to find. (Hosier Lane has had some marquee taggers, including Banksy.) The Leftovers worked around the requirement by using angles that render the art impossible to identify and, in some cases, papering over it with graffiti of their own creation. But in a lane where the art changes by the hour, there are hazards. "We've got the street locked down and pieces of equipment there," says Reilly, "and we took our eyes off it for ten minutes and we came back and we actually had our own graffiti tagged. We had to do a quick job of fixing that up as well."
State Library of Victoria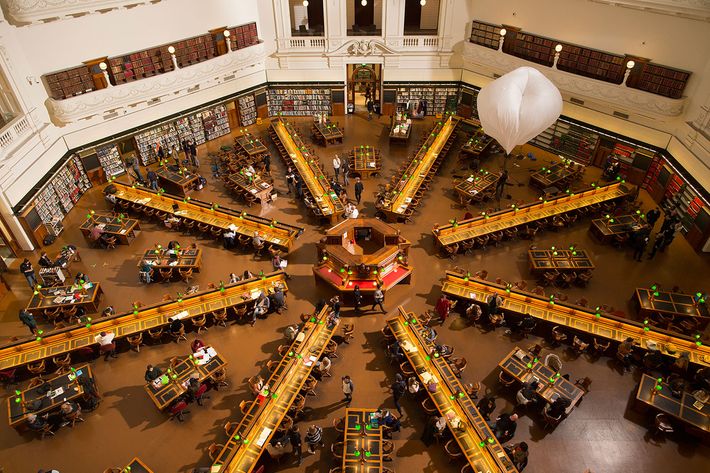 Kevin's wild chase proceeds to another iconic building Reilly couldn't resist using. The Victorian library's most memorable feature is a reading room composed of long wooden desks arrayed in the shape of a grand eight-pointed star. "When you walk in that reading room you want to be taking in the great scale of it," says Reilly, "and the overhead shot was just perfect for really getting a sense of dimension." Reilly proposed to the library two ways of getting that shot: a crane hoisted onto a balcony or a small drone. The library had denied the use of drones before, but technology had since advanced, and Reilly convinced them that a small model would carry a lower risk of damage than a crane. After stumbling through the Hitchcockian space, Kevin finds "Evie" in a back room. It looks like a generic librarian's office, but was actually built from scratch in a library event space.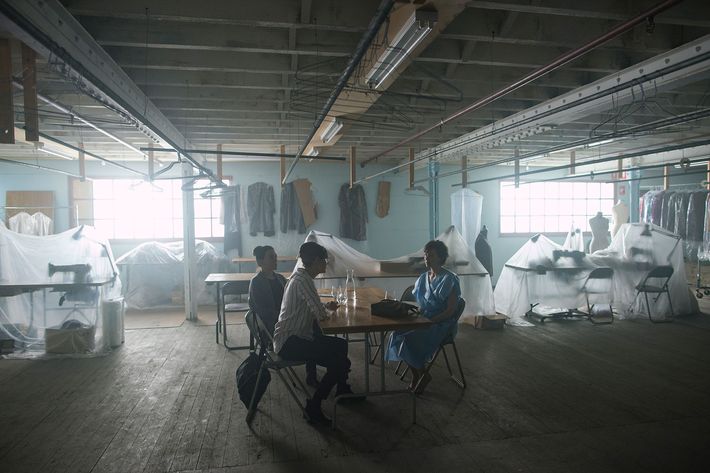 The Dumbo-like warehouse complex where Nora meets the scientists who would like to irradiate her (and which one concedes is "a little bit creepy") is actually the former site of a wool-storage facility a few miles outside of town. Since the wool-sellers left, the buildings have housed the costume store of the Australian Ballet and, more recently, a fancy-artsy urban office collective. The Leftovers originally wanted to use a building under construction, but given the legal safety requirements, they just didn't have that kind of budget. "But we thought the idea and the space was so cool," says Reilly, "especially the lead-in alleyway where Nora gets off the bus."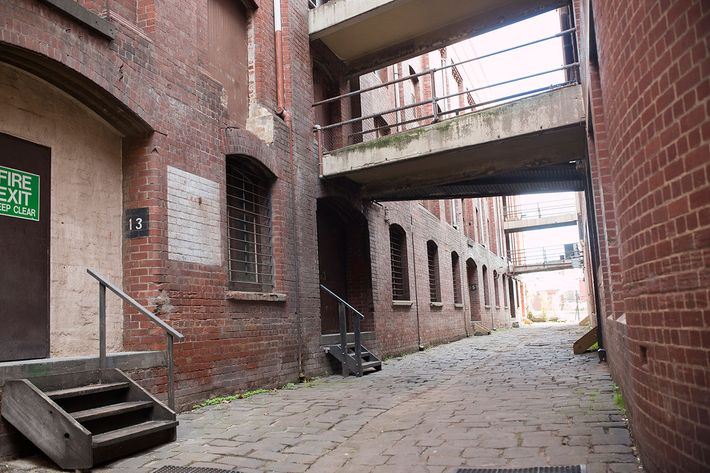 The skylit interiors also suited the script perfectly. All they had to bring into the scientists' creepy loft were clothing bags, the "Take on Me" piano, and the coffin-like box where Nora is so comfortably confined.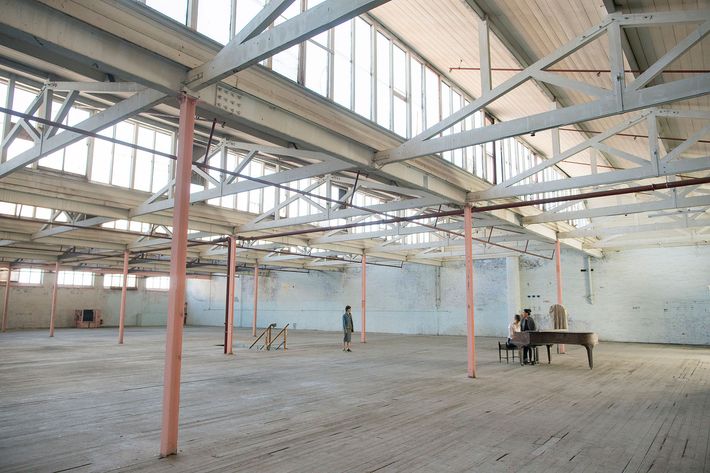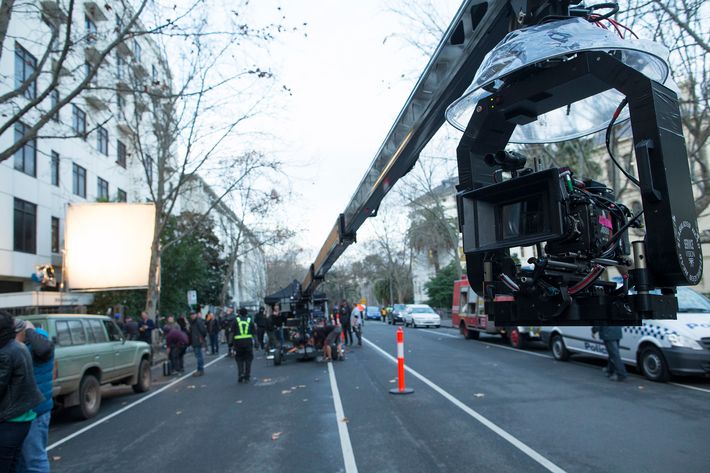 The five-star hotel doubles for the "Crown Central Melbourne" where Kevin and Nora stay. The production couldn't use the front entrance, set back via a long circular drive, so they were given a barely used side exit — more convenient anyway, because it opens right onto the street, so Kevin can grab a cab and zoom past Nora waiting for her bus to potential oblivion. (The café by the bus stop was built out in a plaza across the street — cheaper and easier than using an actual sidewalk café at a busy lunch hour.) The Hyatt's wood-and-mirror-paneled corridors were also used, but the room had to be recreated on a soundstage "because of the water and smoking scenes," says Reilly. "The Hyatt wouldn't allow us to flood their hotel suite."

Episode 3 Bonus: Fitzroy Town Hall (Shot for "Mapleton, New York")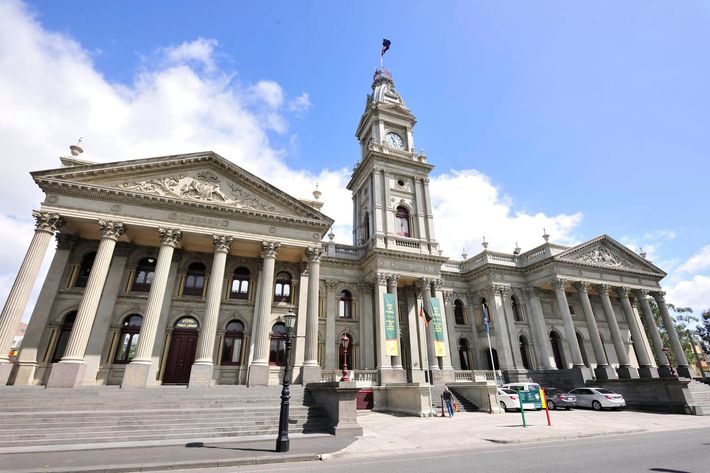 There was one scene this season (so far) in which Melbourne was shot for a different place: Kevin Sr.'s brief, slow-motion flashback at the beginning of episode three, in which he's still the Mapleton police chief in the midst of Departure mayhem. "You could find this kind of building in Yonkers," Reilly says of the stately beaux-arts Victorian hall. Fitzroy itself is a gentrifying working-class neighborhood full of graffiti and tower blocks, but isolated streets like this share a lot of architectural DNA with, say, Westchester County. "So you take a piece of iconic architecture, something that draws your eye, put some U.S. flags up, it's controllable." Throw in a burning car, fleeing mothers, and a long-distance lens, and you've got a Leftovers opening.