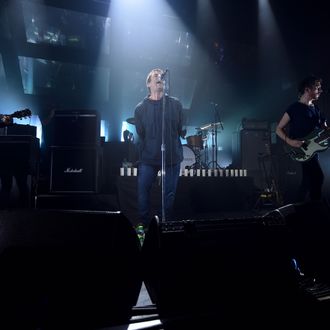 It was quite the debut.
Photo: Chris Williamson/Getty Images
Ever one with a flair for the dramatic, Liam Gallagher kicked off his solo career Tuesday night in Manchester with a benefit concert for the victims of the terror attack at an Ariana Grande concert — which doubled as his first-ever solo show — in grand, fan-baiting fashion. It was a career-spanning set that included multiple Oasis gems ("Wonderwall" not included, sorry) and the debut of the solo music he's spent months talking up (his album, As You Were, is out in October). According to NME and fan reports from inside the show, Gallagher played in front of 22 burning candles representing the 22 people killed in the attack, and led with two Oasis songs, "Rock 'n' Roll Song" and "Morning Glory." He then spent a large chunk of the middle of his set playing his solo work for the first time, including his debut solo single "Wall of Glass" (which will be properly released today) and reportedly six other new tracks.
But despite rumors that the night might see an Oasis reunion given the hometown circumstances, after Gallagher sent his rare well wishes to brother Noel on his 50th birthday, it didn't quite pan out that way. Instead, Liam threw fans a crumb and brought out his former Oasis bandmate Paul "Bonehead" Arthurs for a performance of "Be Here Now."
He closed his show with an a cappella version of "Live Forever" in a tribute to the victims, which concertgoers reportedly continued even after Gallagher exited the stage by once again breaking out into a singalong of "Don't Look Back in Anger" — just as a crowd in Manchester had done at a memorial gathering in the city after the attack — and "Stop Crying Your Heart Out."