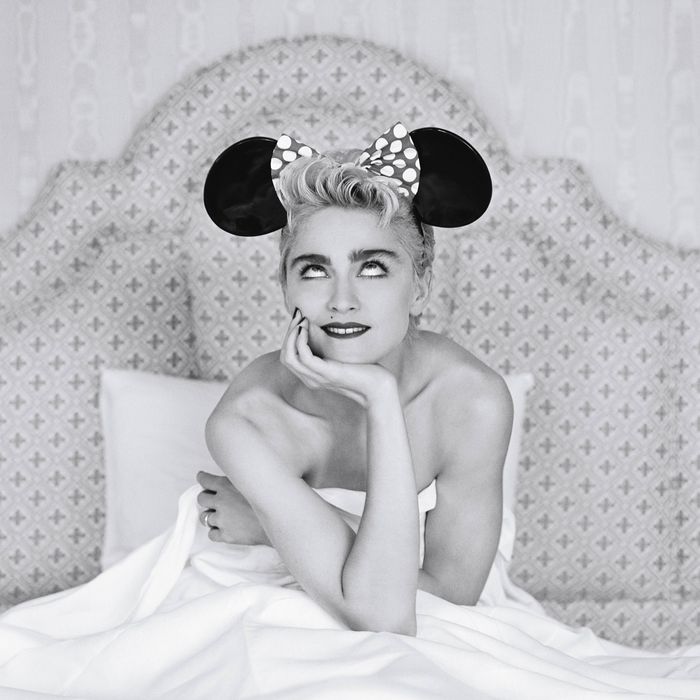 Madonna in a Tokyo hotel room, 1987.
Photo: Herb Ritts / trunkarchive.com
When Rolling Stone made its debut in November 1967, it looked like a newspaper. It was printed on pulp, and its black-and-white front page contained four columns of stories and a photo of John Lennon on a movie set. The visuals were not the point; "the cover of Rolling Stone" didn't have any cultural meaning (yet). But within a year or two, Jann Wenner and his art directors in San Francisco began to figure out that what they had on their hands was more magazine than newspaper, and that the cover should be more like a poster, with a single strong image that had some punch. (Back on the East Coast, Milton Glaser and Clay Felker were going through almost exactly the same evolution at New York Magazine, which published its own first issue just a few months later.) Turn the early pages of 50 Years of Rolling Stone, out this week from Abrams, and you can almost watch them create the magazine we now know.
Within a decade, RS had become a photographic showplace, owing to both its subjects' unbelievable coolness (Keef! Bowie! Michael Jackson!) and the skills of the artists wielding the cameras. Richard Avedon made portraits of power; Herb Ritts shot glamour gals like Madonna and glamour boys like Mick. Most of all, Annie Leibovitz became Annie Leibovitz, trading on-the-spot photojournalism for increasingly complex setups of celebrity and subject. You have seen all the most famous ones, of course: Fleetwood Mac on the bed, Meryl in the white greasepaint, John with Yoko on the last day of his life. But there are surprises from Leibovitz's archive, too: a great young Elton John, a snapshot of George McGovern and Hunter S. Thompson from the 1972 campaign. Click below for a sampling (which is too small; there's too much good stuff to show) from the book's 50 years. Putting some Allman Brothers on the stereo as you go through it would not be a bad idea.