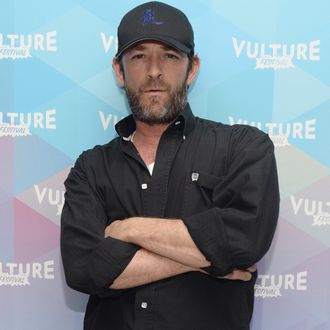 The Man Luke Perry.
Photo: Andrew Toth/Getty Images for Vulture Festival
There are a lot of great things about the CW's Archie Comics adaptation of Riverdale. There's a murder-mystery, saucy teens in amazing outfits, and, of course K.J. Apa's absolutely amazing rippled abdominals. But the real best thing about the show is Luke Perry, the '90s icon who plays Archie's father, Fred. He was also the hit of the Riverdale panel at Vulture Festival.
"He's a man of few words. He's a builder," Perry tried to say about his character, but later statements belied his confidence. When talking about Fred's rival Hiram Lodge who is coming in season two (and played by Mark Consuelos no less) he said, "I'll kick Hiram's ass when the day comes."
His castmate Marisol Nichols, who plays Veronica's mom, Hermione, was talking about how the whole cast was sick during the Vancouver shoot and she had to call Perry and let him know she had pneumonia the day they were scheduled to film their kissing scenes. "It's going to take a lot more than pneumonia to keep that from happening," he joked, adding that he never even got sick afterwords.
Perry's biggest laugh came when moderator Angelica Jade Bastien asked what it's like to be a sex symbol — a question clearly meant for Apa — and TV's own Dylan McKay answered, "Well … " At the end of the panel, when asked what he was looking forward to in season two, Perry said it was about the growth of his young castmates. "They all know what to do and how to do it and they're going to hit the ball out of the park," he said. "I love to watch them work. I really do." Aww. Let's just hope Fred, who was shot in the season finale, lives to see them keep going.