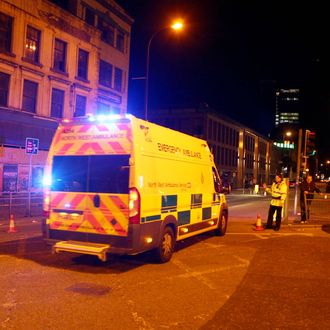 Photo: Dave Thompson/Getty Images
At least 22 people have been killed and 59 were injured after an explosion rocked the Manchester Arena in Manchester, England, Monday night. The venue was hosting Ariana Grande for a stop on her "Dangerous Woman" tour; the show had just ended when the sound of an apparent explosion sent concertgoers in a collective rush toward the exits. The Manchester Police said it is treating the explosion as a terrorist incident until further notice, and there were unconfirmed reports that a nail bomb was detonated near the arena. Grande's publicist Joseph Carozza confirmed to the New York Times that the singer was unharmed in the incident.
This post has been updated throughout.