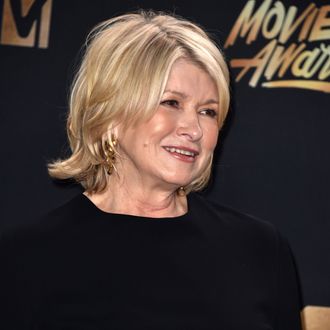 Martha Stewart.
Photo: Alberto E. Rodriguez/Getty Images
Martha Stewart, queen of Twitter, doesn't use the site the way the rest of us do. When she needs a question answered or a mystery celebrity identified, she turns to the app's denizens for an assist. "I can get a read on a question, on a problem, on a thing we're doing pretty quickly and that's really what I like about it," she told BuzzFeed News. "It's almost instantaneous." That's how she discovered Jonathan Cheban's identity (Kim Kardashian's friend/Foodgōd). Last June, Stewart asked the internet if Cheban was famous (the internet responded, "Well …").
"I had no idea who he was," Stewart told BuzzFeed. Now, she says the two are friends: "I didn't know at all and he was so mad at me. But then he saw all the attention he got, so now he loves me. He calls me and he emails me. But I had no idea because I had never watched the Kardashian program … I didn't know he was part of the coterie of people who hang out with her. Now I know — big time!"
As for her other viral thread about Jason Derulo stripping down during a performance on an especially hot night, Stewart said it makes use of Twitter's other good feature: education.
And then:
"I'd never seen him perform live so it keeps me kind of interested in that kind of performance to photograph it and tweet about it," Stewart recalled. "I'm learning something while I'm doing it, so that's good for me." Remember this: If you're not shading someone on "the Kardashian program" or praising Jason Derulo's artistry, that tweet you're drafting is a waste of everyone's time.