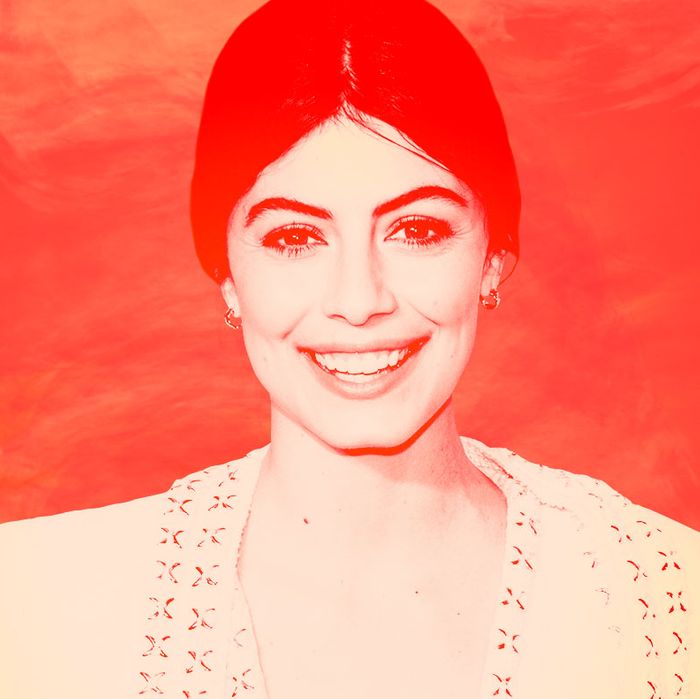 Swoon.
Photo: Maya Robinson/Vulture
You could say Aziz Ansari's Master of None is a love letter to New York City, good eats, and friendship. But above all else, it's an anthropological study in swooning. No character is immune to going googly-eyed over someone who catches their fancy — not even Brian's stone-faced dad — but nobody falls harder than Ansari's Dev, whose quest for love in a time of Tinder inevitably finds him pining after women who can only exist in his imagination.
Season one had Noël Wells's Rachel, and now, a pasta-making jaunt to northern Italy has brought both Dev and the rest of us a new crush: Alessandra Mastronardi, a.k.a. Francesca. On Master of None, Mastronardi oozes charm, wit, and that air of unattainability that drives the heart mad. You've seen her light up many rooms as Francesca and surely have one lingering question: Who is this woman? Say buongiorno to your new crush.

Tell me she's actually Italian.
Oh, is she. That's no faux accent, and Francesca certainly didn't master all that Italian profanity overnight. Mastronardi was born in Naples and raised in Rome, where she also went to university, and these days, she lives in London. In fact, Mastronardi says it was only because Aziz missed a flight from London to New York that she managed to audition for Master of None. Two weeks later, she won the role.

Where else can I see her work?
She's had a long career in Italian entertainment, particularly on TV. She's appeared in I Cesaroni, the Italian version of the Spanish show Los Serrano, for several seasons. She's also been in the mini-series Romanzo Criminale and the TV movie Non Smettere di Sognare, among many other Italian shows. She made her theater debut a decade ago in the comedy The Prozac Family.
Eh, subtitles aren't really for me.
That's a shame, but you're in some luck. In addition to Master of None, Mastronardi co-starred in Woody Allen's To Rome With Love as one half of a newlywed couple. There are still a few subtitles involved (this is an Italian-set film, after all), with plenty of English sprinkled in. Look, she's confused about her love life in this one, too!

You can also catch her in Anton Corbijn's James Dean biopic Life, in which she played Dean's lover, Italian actress Pier Angeli. And then there's Titanic: Blood and Steel, a 2012 English-language mini-series about the construction of the Titanic. Mastronadi plays an Italian immigrant with whom an engineer working on the Titanic falls in love — just like everyone else on this planet who's ever laid eyes on Mastronardi. Her most recent English-speaking film role is this year's Lost in Florence in which, you guessed it, she's someone's love interest.

What happens when I've exhausted my Mastronardi marathon?
You fall into deep despair. Just kidding: She's also exceptionally great at Instagram and you can get your fix there while she's between projects. (Like, hopefully, Master of None season three!) Fashion bloggers, eat your heart out.

Wait, is she also a model?
Not exactly, but she is an ambassador for Chanel. Which, simply put, means she has worked on several campaigns for the brand. Don't worry about the particulars of it, though: Just experience the magic of her frolicking around in a bed of flowers and guess where Aziz got the inspiration for that scene with the fall foliage. Someone did his homework.

Chanel even followed Mastronardi around for a day and filmed every second of chicness and Italian perfection for the rest of the world to behold. Sure, it happened during Fashion Week, but who's to say her life isn't always this glamorous?

Okay, I know a lot about Mastronardi's work and lifestyle now. What about her personality and interests?
We won't do you like Dev. From what we've gathered from some light Instagram stalking, Mastronardi is passionate about human rights (or at least enough to post about the war in Syria), enjoys lazy days in bed, and really appreciates a quality breakfast spread. She is obviously fond of Italian food — even Eataly! — and will demonstrate that passion whenever possible, like on an Italian food show. Her other interests include a love for Sex and the City, salty foods, and Italian actress Monica Vitti — also, injecting parts of her life into Master of None, because much of the show was apparently improvised. Oh, and Aziz texts her food porn.

Break it to me gently: Does she have a Pino in her life?
We're so sorry. It appears that, Mastronardi is engaged to her Titanic: Blood and Steel co-star Liam McMahon. He watches her TV shows like a good boyfriend. They have a cat together. It's enough to make even a romantic like Dev cringe.

Merda.
We know. Look on the bright side, though: She's as obsessed with American drug stores as Francesca is in the show. Francesca is Alessandra, baby. So, until life imitates art and you get a cliffhanger of your own to keep the hope of love alive, continue to be jealous of the lucky pillow that gets to hold Alessandra Mastronadi's beautiful face tonight and every night.