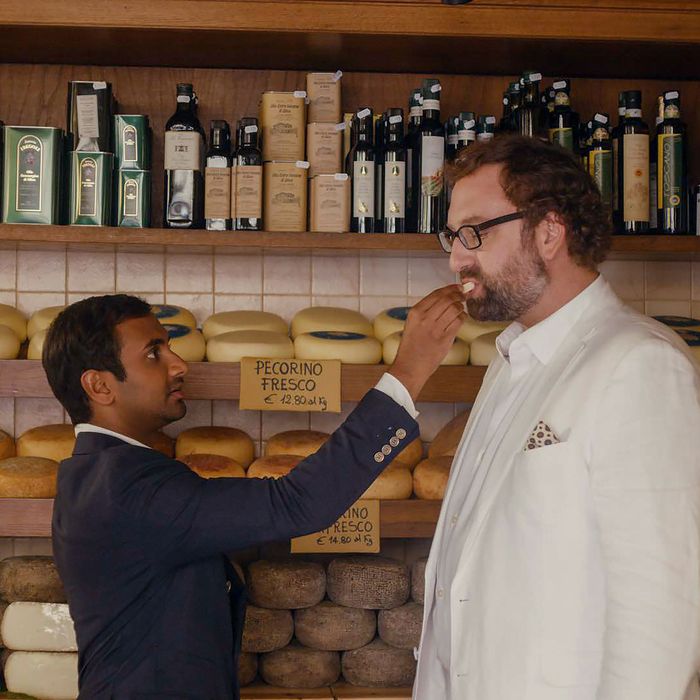 It may seem like the second season of Master of None begins in Modena, Italy, because foodie extraordinaire Dev Shah (Aziz Ansari) ran out of Manhattan restaurants the first time around. But soon enough Dev is back in the Big Apple eating his way through career opportunities and unrequited love, from stops at Carbone (the second Mario Carbone establishment to be featured on the show) for octopus pizzaiolo, to a series of dates at the Four Horseman, one of Ansari's and co-creator Alan Yang's favorite New York bars (it's owned by one of their friends). "It's our hangout space," Yang told Vulture. "We ended up adding decorations to the place and they kept them."
But first, there are two episodes set in Modena, where Dev is finishing a pasta apprenticeship, resetting his life, and, as usual, eating a lot.
"It's one of our favorite places in the world," co-creator Alan Yang told Vulture in an interview. "We like to travel. During the off-season, we had gone to Italy a couple of times, and it seemed like a logical place for Dev to want to go because Dev is not too dissimilar from Aziz." Looking for offbeat locations, Ansari and Yang traveled to Bergamo in the north and Puglia in the south, but fell for Modena's charms. "It's a picturesque little town in the middle of the Emilia-Romagna region and people were so friendly, and it seemed like a great choice."
To pick restaurants for Dev in Italy, Ansari and Yang used the same formula they use in Manhattan. "We pick our favorite places whenever possible. If it's feasible with the schedule, we just like to go where we like to go because we feel that adds realism to the show," Yang explained. "So it's really the neighborhood places we like or sometimes it's our friends' places that we're familiar with."
In episode one, Dev goes to dinner at Hosteria Giusti, where one must walk behind a deli counter and through the kitchen to be seated. "It's incredible!" said Yang. "We had a meal with our crew at Giusti when we first landed into Modena. Just delicious. The setup is all real, too. They have the great shop up front where you can buy meats and cheeses and stuff to take on a picnic with you. And then in the back is this amazing, homey, delicious restaurant." Bonus tips for those inspired to travel: The two bars featured in the episode are Archer (where Dev and a new friend have a drink), and Enoteca Compagnia del Taglio (the site of Dev's birthday party).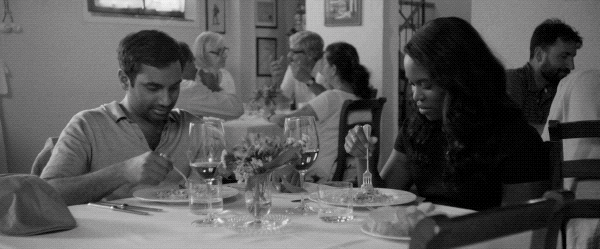 Before Dev and Arnold (Eric Wareheim) go to a wedding in episode two, they stop for lunch at the landmark Bar Schiavoni in Modena, home of the famous sausage sandwich. "The sandwiches are delicious!" Yang said. Located next to Mercato Albinelli, where the best friends wander around and taste fruit, the restaurant serves prosciutto and pork sandwiches, along with lighter fare.
Arnold also surprises Dev with dinner reservations at Osteria Francescana, a three-Michelin-star restaurant owned by Massimo Bottura. "Just a humble corner restaurant!" Yang said, laughing. "Yeah, no. It's really unbelievable that we got to shoot there. Massimo and his team were so kind to us. I believe we're the only scripted show to shoot there." If you're wondering if you, too, can dine in the wine cellar like Dev and Arnold do, Yang has some bad news for you: "It's not accessible to the public, which made it even more special."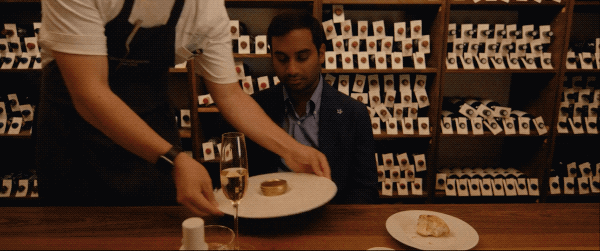 But there are plenty of other restaurants from Master of None you could snag a reservation at, and rest assured: "We like to go to the good places," Yang said. "We don't want to show bunk places."