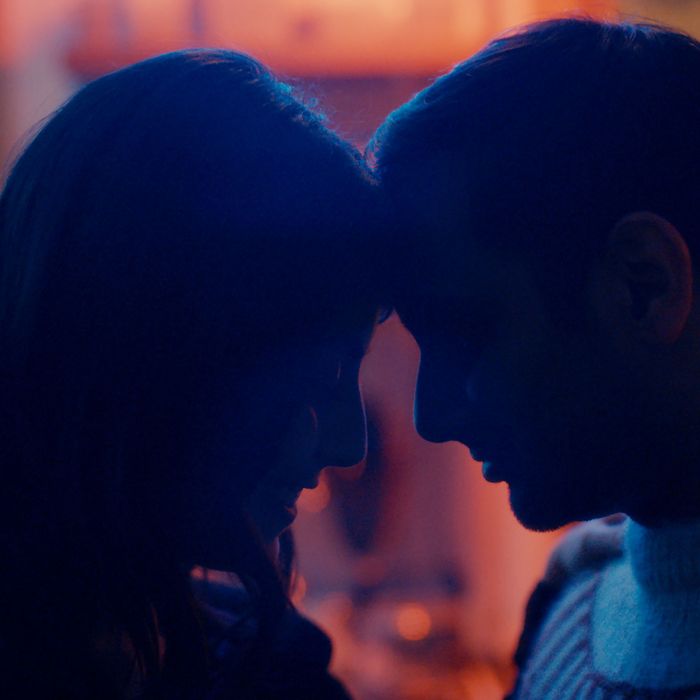 Alessandra Mastronardi as Francesca, Aziz Ansari as Dev.
Photo: Netflix
In the end, life always gets in the way. You can make a plan, and then try to force that plan through the thicket of stimuli and conflicting agendas, but ultimately life has other ideas. There's no way to account for what the world has in store, but sometimes — maybe only a handful of times in a person's life — the stars align and provide a desired outcome. What comes next, however, is a whole separate question.
Dev didn't plan for his show to get cancelled or that he'd lose Francesca. He didn't foresee that Chef Jeff was a serial sexual harasser whose exploits would eventually see the light of day, causing the downfall of Best Food Friends. He might have suspected that Francesca would go back to Pino, but he didn't really know. He sure as hell didn't expect that he'd run into Rachel on the street and exchange pleasantries like he would a complete stranger. Dev is far from a passive actor in these events, but it still feels like he's been laid low by forces beyond his control, which is exactly what it feels like when you take hit after hit in a short period of time.
"Bucca Notte" reveals that Jeff is a creep who's been harassing women for years and getting away with it. This is far from a stretch, considering the way he eyed Lisa the makeup woman (Ilfenesh Hadera) earlier this season, while his infectiously positive personality all but told us he had skeletons in his closet. One evening, Dev's friend Benjamin (H. Jon Benjamin, turning in a predictably excellent cameo) tells him that Jeff has a history of inappropriate behavior. Dev later confirms this with Lisa, who quietly moved to a different show after Jeff repeatedly harassed her and the network's institutional gatekeepers failed to stop it. The next day, Lisa pens a blog post documenting the behavior and it goes viral, prompting 14 women to speak out, just before Dev and Jeff are set to appear on Raven-Symoné's live daytime show Raven Live!
The Raven Live! scene is the episode's comedic highlight not just because Dev actively tries to distance himself from Jeff on air — a tough thing to do considering their show and all its marketing suggests they're real-life best friends — but also because it's absurd that the shit hits the fan on a live TV show hosted by Raven-Symoné. After Raven finds out about the harassment, she aggressively confronts Jeff, who eventually walks off the set. Then she turns her eyes to Dev, who tries to say the right thing but accidentally says he "100 percent condones Jeff's behavior" and makes an ill-timed crack about That's So Raven. It's all completely ridiculous and very quickly leads to the end of any professional relationship between Dev and Jeff.
After that debacle, Francesca tries to politely let Dev down and he just throws it back in her face, albeit in Ansari's patented non-threatening manner. He tells her that he feels used, that she exploited his feelings to provide a brief fantasy of life without Pino. Of course, this is complete bullshit, but it's understandable Dev feels that way, especially since he's only seeing his hurt feelings and not her own pressures. As Francesca tells him, it's not easy to throw away her whole life in Modena and just shack up with him because they had a fun month. Later, Arnold expressed similar thoughts: "Your relationship probably wasn't gonna be this magical fantasy that's in your head. It was probably gonna be a shit show."
Dev, who at this point is something of a masochistic romantic, still thinks they could have worked it out. Is Dev's optimism holding him back? He holds onto relationship dreams for so long that he ends up straddling the line between earnest and delusional. On some level, it's unrealistic for Dev to expect this woman to pack up her life for him, but on another level, stories like that do exist. Master of None consciously documents a time in life when it feels like everyone has one last chance to take a big risk, to make a big move, to burn bridges and not look back. Dev frequently takes risks, but not to his emotional gain. He's still disconnected and alone. Not even Santa Paws 2 can take his mind off Francesca.
Just then, Pino looks at Francesca and all their packed bags and asks her if she's ready to leave. She pauses and doesn't answer. Cut to black. Fade up on Dev's apartment where she's lying in bed next to Dev, staring up at the wall, wondering if she's made the right choice.
The fantasy came true. Francesca chose Dev. Now what? How will the shit show play out for two lovebirds in over their heads? We probably won't find out for a while, as Ansari told Vulture that he's not sure if he even wants to do a third season, and if he does, he has to become a different person first. ("I've got to get married or have a kid or something. I don't have anything else to say about being a young guy being single in New York eating food around town all the time.") So for now, Master of None leaves us on that Graduate-esque moment, when the leap has been taken and the doubt slowly settles in.
Jack of All Trades
• Danielle Brooks returns as Shannon, Dev's agent, who informs him about Jeff's behavior going viral. She asks Dev if he's a pervert, an accusation he vigorously denies, only for Shannon to stare into his eyes so she can "search his soul for the truth." It's very uncomfortable.
• The scene when Dev and Francesca playact their meeting at a bar when they're both single is both wholly absurd and also painful to watch, especially when they're dancing with a door between them. Go figure.
• Benjamin hasn't heard that Dev was the host of Clash of the Cupcakes. "Why would I watch a show like that?" he responds. "That sounds terrible."