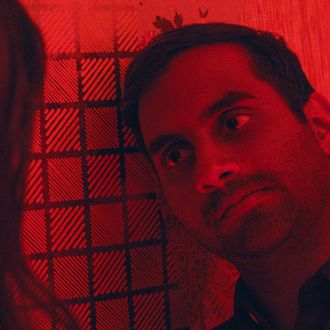 Hey, cutie!
Photo: Netflix
This story includes spoilers for the season-two finale of Master of None. Don't say we didn't give you a warning.

If you've binged through the second season of Master of None like a bowlful of bucatini then you might have watched the final scene of the season and thought: Wait, was that a flashback or a flash-forward?
First, let's backtrack a bit. The season's final line of dialogue belongs to Pino, the side boyfriend turned side fiancé of Francesca when he asks her, "Are you ready?" The couple are all packed and ready to leave New York to get back to their life in Modena, Italy. But the final two shots of the episode, "Buona Notte," pans from the frosted windows of Dev's apartment to Francesca (Alessandra Mastronardi) and Dev (Aziz Ansari) in bed together, under the covers. She opens her eyes and they both look at each other before the scene cuts to black.
You'll recall that the shots are reminiscent of ones from the episode prior "Amarsi un po" (named after a hit Italian song by Lucio Battisti and Mogol, that translates to "love each other a little"). During that episode, Dev and Francesca are deep in the throes of their emotional fling. During one of their hangouts, Francesca gets stuck in Dev's apartment while they're watching L'Aventurra and a blizzard hits the city. She can't go back home, so she stays over, sleeping in Dev's bed, where he eventually ends up too, only for the two of them to fall asleep together, side by side under the covers. During that sequence, there are similar shots of snow coming down outside the window, and an overhead shot of the two of them in bed.
You could see the final shot as doing what we call the Before Sunset test, inspired by the Richard Linklater films starring Julie Delpy and Ethan Hawke. At the beginning of Before Sunset, a group of journalists ask Jesse, played by Hawke, if the lovebirds in his novel actually met up as they promised each other they would. Jesse had based his book on the time he spent a wildly romantic, impromptu, effervescent night in Vienna with someone he meets on the train named Celine (Delpy) — the plot of the first movie, Before Sunrise. Before Sunrise ends without the viewer knowing if Celine and Jesse would meet again as they promised, and in a bit of meta commentary, Jesse tells the writers that the ending "is a good test if you're a romantic or a cynic." If you're a romantic, you think they did. If you're a cynic, you think they didn't.
Master of None's second season exists in a gray area. When Dev and Francesca first meet in Modena, Francesca has a boyfriend named Pino — the only relationship she's ever been in — and over the course of the season, the two of them eventually get engaged. But Francesca comes to visit New York, and during a long stay, she and Dev do all the things that young, in love, bougie New Yorkers do: They go upstate to see Storm King, hang out around the fountains at the Brooklyn Museum, eat late-night tapas at a dimly lit Spanish restaurant, and go on a helicopter ride over the Manhattan skyline. They even recreate the kiss in Michelangelo Antonioni's L'Eclisse when they dance around Dev's sweet one-bedroom apartment, smooching with a French door in between them. Francesca is the woman who's just out of reach, and the last shot raises the question: Did they get together?
You might be thinking the scene is simply a flashback to the night of Dev and Francesca's slumber party: There are the same snow-filled windows and they're lying in bed in the same position. So, if you want to leave yourself with the warmth that ambiguity — Did they or didn't they? — we advise that you stop reading right here, because with the power of screenshots, we have an answer.
Here's the shot of them in episode nine, in bed during the blizzard: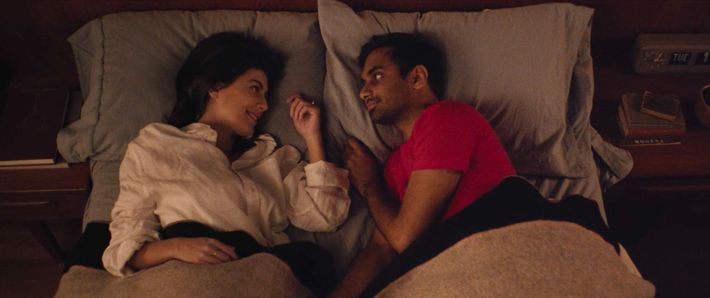 Now we're going to put all of those skills you acquired reading Highlights magazine at the dentist's office to good use and compare it to the final shot of the season: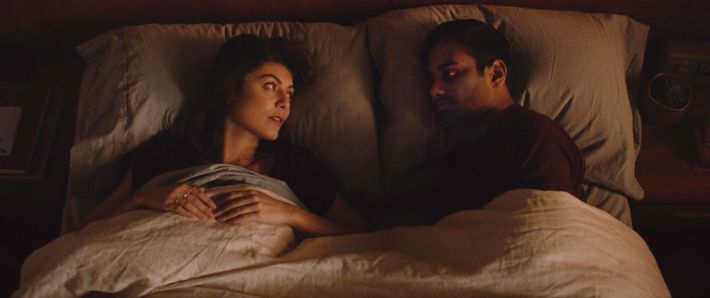 While the shots are composed similarly, there are a few major differences: the obvious one being that there's a blanket on top of the comforter in the first scene. While Dev is wearing a red shirt in both scenes, he's going with more of a maroon number in the second shot; Francesca has switched from a white top to a black one. But the most important detail is on Francesca's left hand: She isn't wearing her engagement ring in the final shot. In the episode prior, Master of None makes an effort to point the ring out during their first sleepover at Dev's place: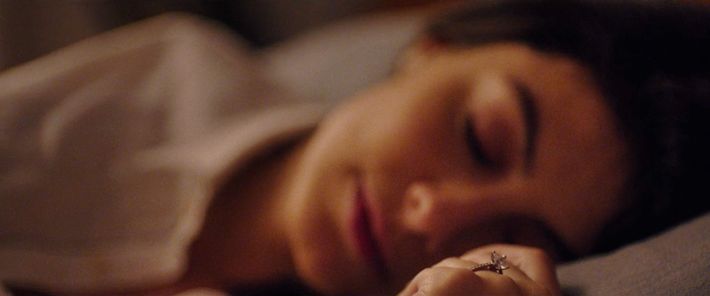 That's right: Francesca isn't wearing her engagement ring anymore! So we can definitively say that this is a flash-forward into a presumable, but as-yet-unannounced third season. What we don't know, of course, is how far into the future it is, what happened with Pino, or whether they're happy about the choice. What we can say is that just because someone puts a ring on it doesn't mean you can't take it off. Allora!