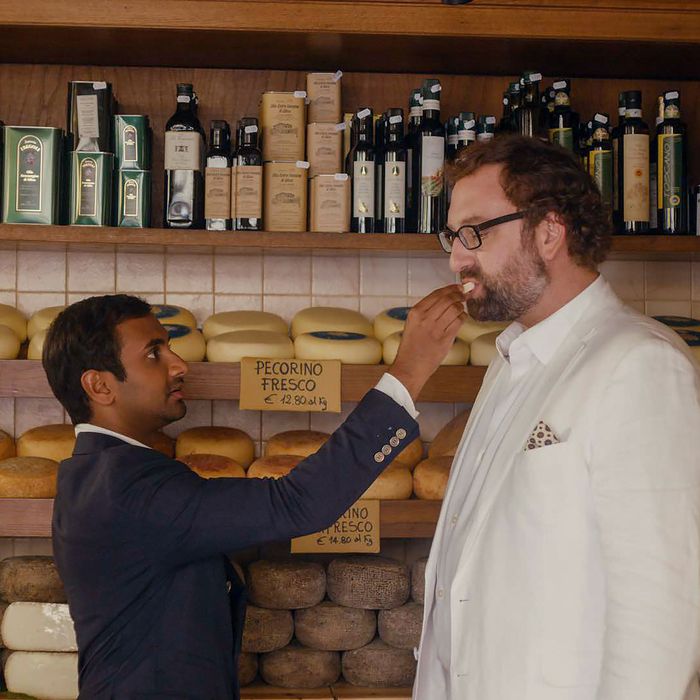 Aziz Ansari's confidence was uncanny when his Netflix sitcom Master of None debuted in 2015. Not many stand-up comics mainly known as supporting players on low-rated network sitcoms would've been bold enough to pitch a star vehicle that bore as distinctive an aesthetic stamp as Woody Allen's film work from the 1970s, Albert Brooks's in the '80s, Garry Shandling's The Larry Sanders Show in the '90s, and, in modern times, Louie C.K.'s Louie.
But that's what Ansari and his creative partner Alan Yang did, and from frame one, their work pulled off the neat trick of impressing without seeming to try to impress. The series felt like a second or third attempt at an auteur statement, not a first. Of recent half-hour scripted series, only Atlanta was more impressive, but only because the look and sound of it was more assured. But in season two, Ansari catches up. The new batch of Master of None episodes is on my short list for scripted show of the year.
I suspect many will share my enthusiasm, provided the show's laid-back vibe doesn't prove a deal-breaker. Like many of his forerunners, but Allen in particular, Ansari made his cultural roots an integral part of the show, but not the whole show. His character, striving actor Dev Shah, is the secular son of assimilated Tamil Muslim immigrants who faithfully go to mosque (played onscreen by his real-life parents), and he suffers employment discrimination and has to factor occasional racial awkwardness into his dating life. But the masterstroke here, as in other excellent recent sitcoms by actors of color, is the show's grace in juggling such material in with observations about modern life in general — such as the way that text messaging figures in nearly every plotline, and the casual swipes against green-screen-driven spectacles (including the plague film Dev co-stars in during season one) that have driven small-scale human stories like Master of None out of art-house theaters and onto streaming services.
Season two hones the show's distinct cultural vision and adds stylistic heft. Ansari directs the first two episodes, set in Italy, where the hero has gone to get over his breakup at the end of season one. The premiere finds him living in Modena and studying pasta-making. The series' already unusual Cinemascope-ratio images are black and white, and the episode begins with a slow, lateral pan across the sleeping hero revealing two bedside tables, one filled with cookbooks, the other with DVDs of Italian cinema classics such as Bicycle Thieves and La Notte. The first stack is a cue for how to think about the second: This marvelous episode is a compendium of about six Italian cinema classics, all raiding Woody Allen's style and lightly blended together. There are even snippets of the Bicycle Thieves score worked into the soundtrack.
The second season keeps surprising in this way, from the second episode, in which a visit from an American friend becomes a meditation on the pain of lost love remembered, and the third episode, which returns Dev to New York City for another generational clash with his mom and dad about what it means to be a good Muslim. The latter episode, directed by Ansari's creative partner Alan Yang, ends with a "celebration of life" montage that is so unaffected, its power sneaks up on you. Maybe the best description of this series that I've heard comes from a friend who keeps recommending it to others: "When I describe it to you, it sounds like one of the sitcoms where you would say 'nothing happens.' And it kind of is. But somehow everything is important."