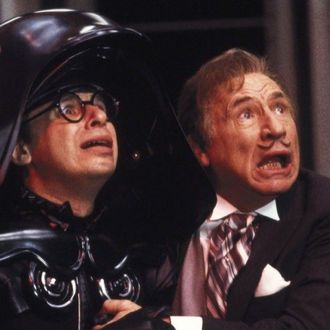 There's still hope.
Photo: Metro-Goldwyn-Mayer
Back in early 2015, Mel Brooks revealed that he was interested in making a sequel to his 1987 film Spaceballs in an interview on Adam Carolla's Take a Knee podcast, following up on previous reports that he'd do the film as long as Rick Moranis signed on to participate. Here's what Brooks told Carolla on the possibility of turning Spaceballs 2: The Search for More Money into a reality at the time:
Maybe I could do another musical, maybe I could do another movie. I was thinking about Spaceballs the other day. In Spaceballs, in the movie, Bill Pullman says to me, Yogurt, just plain Yogurt, he says "Do you think we'll ever meet again?" and I say "Well, I don't know…maybe in Spaceballs 2: The Search for More Money." And I'm thinking now, if I did a movie that came out right after Star Wars comes out — maybe a couple of months later — I'd have a big weekend, you know? No matter what, even if it fell on its ass and didn't get its money back…but that first weekend, the anticipation of seeing Spaceballs 2, would…I still have Daphne Zuniga and I still have Rick Moranis if he'd do it, and I've still got me.
During a recent NJPAC Q&A, Brooks was asked for an update on the sequel, and he gave a very hopeful response. "Well, you know, MGM is slightly interested in doing it because of Star Wars Rogue One and The Force Awakens and the new Star Wars explosion, so they think maybe … So we're talking," he said. "Who knows, you know?"
Check out the clip below:
So… will there be a Spaceballs 2?! #MelBrooks says… pic.twitter.com/Ei89hTJLD7

— njpac (@NJPAC) May 21, 2017
Hopefully this new update means Moranis is on board and the sequel will actually get made, 30 years later. If nothing else, it would be worth it for all the merchandising opportunities, right?