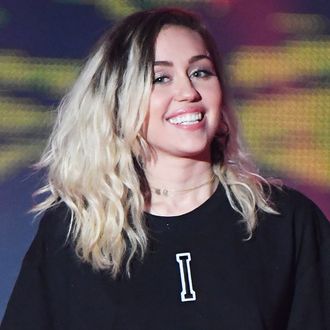 She's just being Miley.
Photo: Jeff Kravitz/FilmMagic
Miley Cyrus has all but gone off the grid for the last few months, which in pop years is the equivalent of an eternity. But that's all about to change as she's announced her return to music, in a surprise Billboard cover story. On May 11, she's dropping a new song called "Malibu," dedicated to her fiancé Liam Hemsworth. And if that already sounds sappier than much of the shock-pop she's known for, it's deliberate. According to Miley, her new music — an album is on the way — will be a departure from everything that got her in trouble, specifically her most recent two albums, Bangerz and Dead Petz. "Malibu" is described as "gimmick-free pop-rock unlike anything she has recorded before," while the rest of the album is said to lean more country and DIY. It, like Miley herself, will also be political, with a song written for Hillary Clinton and another about women in the workplace. Miley explains her risky new approach this way:
I was torn on whether I was going to work with certain producers that I really like. But I feel if we're not on the same page ­politically … My record is political, but the sound bite doesn't stop there. Because you can write something beautiful and you know E! News will ruin our lives and say, "This is a political record." Because then I'm the Dixie Chicks and I'm getting my album smashed in the streets, and that's not what I want. I want to talk to people in a compassionate, understanding way — which people aren't doing.
Going with a new sound meant she also had to turn her back on a style she's been accused of cashing in on: hip-hop. Miley now says she can barely tolerate most rap save for Kendrick Lamar, but only the conscious side of his rap. "I can't listen to that anymore. That's what pushed me out of the hip-hop scene a little," Cyrus says. "It was too much 'Lamborghini, got my Rolex, got a girl on my cock' – I am so not that." But Miley also swears she wasn't appropriating black culture when she borrowed it for her Bangerz era — a point of contention that famously made Nicki Minaj her enemy — saying, "It's mind-boggling to me that there was even a controversy around me having black dancers. That became a thing, where people said I was taking advantage of black culture, and with Mike [WiLL Made-It] — what the fuck? That wasn't true. Those were the dancers I liked!"
But the biggest sign of all that Miley is headed in a new direction: She hasn't smoked weed in three weeks. It's a new dawn.