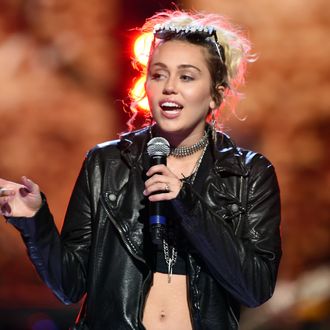 Miley Cyrus.
Photo: Kevin Winter/Getty Images
Miley Cyrus recently announced a new musical direction, one away from the "hip-hop scene" she visited for Bangerz. In explaining her evolution, she said, "I also love that new Kendrick [Lamar] song ["Humble"]: "Show me somethin' natural like ass with some stretch marks." I love that because it's not 'Come sit on my dick, suck on my cock.' I can't listen to that anymore. That's what pushed me out of the hip-hop scene a little … I am so not that." Her comments were subsequently criticized by those who see Cyrus as picking up and dropping the genre when commercially convenient, particularly given the controversy around appropriating hip-hop culture that has swirled around Cyrus in the past.
Now, Cyrus is attempting to clarify her comments with an Instagram post, insisting, "I have always and will continue to love and celebrate hip hop as I've collaborated with some of the very best!" She goes on to affirm her innocuous intentions in evaluating the hip-hop landscape, explaining it as a matter of personal taste. "At this point in my life I am expanding personally/musically and gravitating more towards uplifting, conscious rap! As I get older I understand the effect music has on the world & Seeing where we are today I feel the younger generation needs to hear positive powerful lyrics!," she said. Meanwhile, her new, decidedly hip-hop-free track "Malibu" is due out next week.