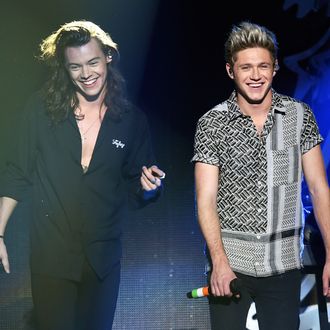 The competition is heating up.
Photo: Kevin Winter/Getty Images for iHeartMedia
One Direction's Niall Horan just released his next solo single "Slow Hands" — calm down, it's not an Interpol cover — after coasting on the fumes of his debut solo acoustic sing-along "This Town" for some months. And the timing couldn't be better: Next week, his 1D bandmate Harry Styles will release his debut solo album. Harry and Niall are the two band members most likely not to wander too far from that 1D sound. The proof is already in what we've heard: Harry's first three songs have all been soft mid-tempo rock ballads in the vein of "Story of My Life" (though "Sign of the Times" has the spirit of rock theater). His latest, "Sweet Creature," is a generous riff on Ray LaMontagne and Vance Joy, not unlike Niall's "This Town."
"Slow Hands" is more of the same — it's acoustic, slow-burning, a bit of a rocker, but also, finally, sexy. That last bit has so far been uncharted territory for Harry in his solo work. Niall's new song, however, is about a one-night stand initiated by a woman at a bar because, of course, Harry's not the only feminist to emerge from this group. Harry and Niall might not consider themselves in competition — few former boy banders would ever admit they care about what the other is doing — but it's sounding more and more like we've finally got a game.