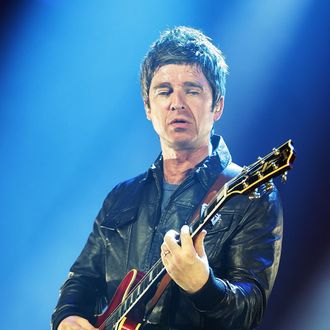 Noel Gallagher.
Photo: Mark Metcalfe/Getty Images
Oasis brothers Liam and Noel Gallagher might not be into the concept of "brotherly love," but they sure have sibling rivalry down. For those keeping up with their very public loathing of each other, here's the latest. On Monday, one day ahead the launch of his brother's first-ever solo tour, Noel announced in an interview with Radio X that his third solo album will be released on November 9. "Well I've finished my record now. It's done, it's mastered, it's all done," he said. The release date is evidently one month after Liam's own solo record, As You Were, is due out in October, according to NME.

Although the date of the announcement could be seen as a subtle way to steal Liam's thunder (Noel, are you upset about the whole "potato" thing? Tell us. This is a safe space), today also happens to be Noel's 50th birthday, a fact that younger brother Liam acknowledged on Twitter.

Maybe there's hope for these two yet, but, alas, we can't be sure.