Wearing only a robe and chewing on a mouthful of Altoids, Kathryn Hahn walked up to Kevin Bacon on the set of I Love Dick and issued a warning: "My friend, this is going to be a trip. Shit's about to get really weird. See ya on the other side."
Bacon had just joined her for the second take of Chris (Hahn) and Sylvère's (Griffin Dunne) wild sex scene, inspired by her obsession with Dick, the artist-cowboy Bacon plays. Turned on by the letters Chris has written to Dick, she and Sylvère get naked, dance on a bed, and have kinky sex while she imagines Dick watching from a nearby chair. "We were doing the nastiest things with those letters — shoving letters in each other's mouths, in each other's person, we were reading them out loud," Hahn says. "Oh my God! It was so dirty. We are filthy degenerates, Griffin Dunne and myself, it turns out."
Hahn and Dunne were nude for the entire scene, except for modesty pasties meant to cover their genitals. "It was basically a Band-Aid and it fell off immediately. I can only imagine some of the angles Kevin was privy to," she adds, laughing. "We ran the whole scene again with him sitting there and Griffin says after, 'Oh, my balls were hanging out.' His little thing fell off!"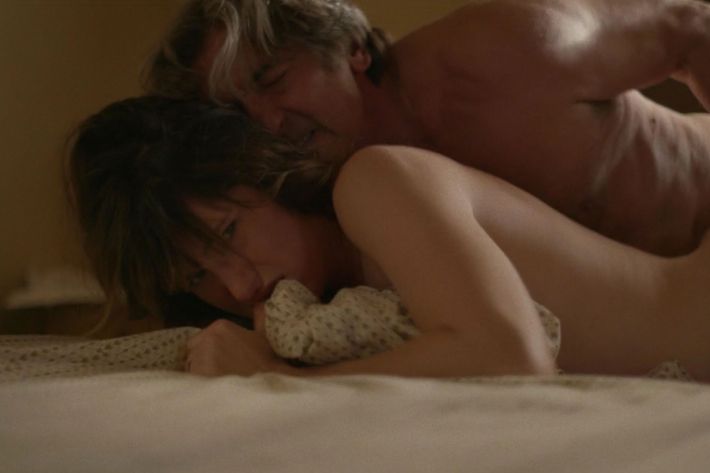 Despite all the exposure — after birthing two children no less — Hahn says she felt more at ease performing that scene than she has kissing actors on other sets. "I can't help but attribute that to the fact that there were so many women on set," she explains. "Seriously, I've been on a network show where I've had to just smooch somebody and it's been more uncomfortable for me. I felt more in my head; I felt I was supposed to be perceived in a certain way that I just couldn't live up to, and that is such a huge mind-fuck."
I Love Dick, based on Chris Kraus's semiautobiographical '90s cult classic, is in-your-face female. It is the story of indie filmmaker Chris, who finds her voice through a relentless sexual obsession with a professor and artist named Dick. To adapt the book for TV, co-creators Jill Soloway and Sarah Gubbins assembled an entirely female and gender-nonconforming writers room, which inspired the production's department heads to do the same. All of the camera operators and focus pullers were women, except for director of photography Jim Frohna, who hired them.
The result, according to the writers, actors, and directors involved, was a nurturing, patient, and nonexploitative environment that sparked a spirit of collaboration similar to what Soloway has created on her other show, Transparent.
"It meant that when people have this conversation about safe workplaces and being totally vulnerable, it was more true than ever before," says actress Roberta Colindrez, who plays Devon, an androgynous struggling artist. "Knowing that the entire camera department, except for the DP, was female, for me, meant complete freedom and safety and honesty about where all of this is coming from. It's other women who can expose that female gaze honestly and with the most vulnerability without it being anything other than what it truly is. It's the most honest cinema I think I've ever been in."
Hahn knows what Colindrez means. She recalls working on NBC's Free Agents, a 2011 comedy she starred in opposite Hank Azaria, in which their characters were colleagues who slept together. "I loved Hank and I loved all the people involved, but I remember there was a certain set of expectations on me as the lead," she says. "You know, sex! Chicken cutlets for boobs, spray tans, so many hair extensions, fake eyelashes, contoured makeup. I felt like an avatar. I didn't feel like myself in any way, and then to try to feel honestly sexy under those circumstances was real sweaty for me. Hot-faced panic."
With no rehearsals or place markers for the actors, nothing on I Love Dick was preordained before filming began. The details of Chris and Sylvère's episode-two sex scene, for example, were worked out on set before the cameras rolled. "We show up to set without any expectation of any particular thing, but rather bring notions that we can use to delight each other, to throw lighter fluid on the moment, to whip things up into a sense of just real humaneness so that we all feel surprised," Soloway says.
Gubbins, who wrote the episode, wanted their exchange to be awkward, hot, and hungry, but didn't plot out exactly what they should do in the script. "I don't know that I'd be able to write it," she explains. "I'm such a tortured Catholic girl. When I showed up on set and everyone was having a great time, I was dying quietly with total shame until I got over it."
In the bedroom with Hahn and Dunne were episode director Kimberly Peirce (Boys Don't Cry); the boom operator; and Frohna, who took off his shoes and jumped on the bed with the actors to capture the action from a camera he cradled close to his chest. When Peirce read the script, the couple's latent desire was evident on the page and demanded, in her view, that they be fully nude and open to anything. The actors agreed immediately. "That scene in particular really did feel joyful," Hahn recalls. "Weirdly enough, their sparks felt very childlike to me in a way that took the onus off of it. Griffin just jumped in dancing like the most adorable sexy elf." At 61, Dunne felt "flattered" to be asked to disrobe. "The environment on set was really about safety and trust and not being afraid to try things," he says. "'Inclusive' is an understatement in terms of the acceptance you felt."
By the time actress India Salvor Menuez, who plays an artist named Toby, took off all of her clothes for a pivotal scene in the sixth episode, "This is Not a Love Letter," there had been plenty of nudity on set. But Toby's complete disrobing, which she does as part of a Facebook Live performance piece, was perhaps the most sensitive to shoot: It took place outdoors at an oil drillers' man camp in the desert, where she observes that the beautiful landscape is being "pillaged by phalluses pumping oil."
In the scene, Toby lies on a towel on the gravel, surrounded by the camp's men, asking her Facebook viewers not to look away, but to also look at themselves. It's the type of scene Menuez, also a model and artist who has posed seminude, relishes because of the vulnerability it requires. But had it been written from a male point of view, or the crew been more populated by men, Menuez doesn't think she would have been up for it.
"It's really rare to have a scene where a female actor is nude and she's not just a sexualized object of desire," Menuez said. "On a more traditional set, my scene would have probably been written in a way that I would have problems with, like this is bullshit, I'm not interested. I felt there was a sensitivity and a real yearning for something to be explored in that moment that I was really open to doing. It was definitely intense, but I wanted to feel exactly what this feels like, and I'm happy not to compromise the realities of what Toby has decided to do."
Menuez admits she was skeptical when she first learned Frohna would direct the episode, the only one helmed by a man. "I hadn't worked with him beyond his role as DP and the scene is hard-core," she says. "I remember having this moment of like, oh man, why is he shooting this episode? But he's a very sensitive person, and I think it does have more to do with the sensitivity of the person than their gender. I don't think anyone on this show believes in gender exclusivity in any way, so I just went with it."
Before filming in the California desert began, Frohna, who like half of the crew works on Transparent, reflected on what was being demanded of Menuez. "It's a lot different to have a sex scene with nudity when you're in the privacy of one of the characters' homes," he says. "But this was in a gravel lot surrounded by trailers and background artists who are hired for the day — 50 dudes who aren't part of the safety circle. I talked with India and Jill and Sarah about what this was, the risk for the character. And I talked with the guys because I wanted them to have a real experience without violating the feeling of safety for India or for that character, Toby. On another set, this kind of scene would bring up a lot of tension and anxiety and worry and fear."
To understand her perspective as he prepped the scene, Frohna stripped down to his underwear and lay down on the gravel, which he was surprised to learn was quite cold. "I've definitely heard stories from other productions where the crew, or some people on set, will also take off their clothes or stay in boxers as a form of solidarity with the actors," he explains. "We've filmed many, many sex scenes on Transparent. The difference here was she was the only woman and there were 50 dudes — the particular vulnerability of that was even more potent or impactful."
Frohna says he feels empowered by Soloway, whom he's worked with since he was the cinematographer on her indie film Afternoon Delight five years ago, and she encouraged him to "shoot with my pussy." Each morning on the set of I Love Dick began with a tradition Soloway started on Transparent — an invitation to the entire production of women, men, trans, and non-conforming individuals to stand on an apple box and talk about anything. The morning of Menuez's big scene, everyone learned that she and one of the background actors had something in common: They had both protested at Standing Rock.
"It's scary to think about what that scene would have been like if the patriarchy was in charge," Soloway says. "That morning, we talked about the revolution and the resistance and other-izing and how these struggles are the same of those of indigenous people and environmentalists and women and queer people. A lot of people are aligned about how making art can change the world, so we gather all that energy first and remind people that's why we're here. We're attempting to dismantle some of the specificities of filmmaking across the board. So that would mean that the way we speak to one another on a day where we're filming this type of scene is a day where dignity and humanity is made primary."
It was also front and center on the first day of production, which kicked off with a gender-bending sex scene from the third episode between Toby and Devon in her Airstream. Colindrez, who plays Devon, remembers noticing the "astonishing number of women" in the crew. "It's so funny to have never thought of it before because you get used to that environment — like, of course it's only men in the room," she says. "But it's like, wait a second, I'm not the object? I'm being looked at for me and not for all these things that are supposed to be me? It's special. How has this never happened before? I've been wanting to see this my entire life and I didn't even realize that."
Toby and Devon's scene, which contains no nudity, begins with Toby declaring, "I'm sorry, Daddy … You got a big cock." The two actresses had bonded during the filming of the pilot and felt at ease with each other, as well as with director Peirce. (Although the scene appears in an episode directed by Andrea Arnold, it was originally part of the second episode directed by Peirce.) "The conversation was so natural, like we were ordering a salad," Colindrez recalls. "We didn't need to explain sexuality to each other because we know our sexuality, and we can imagine the sexuality of these two people."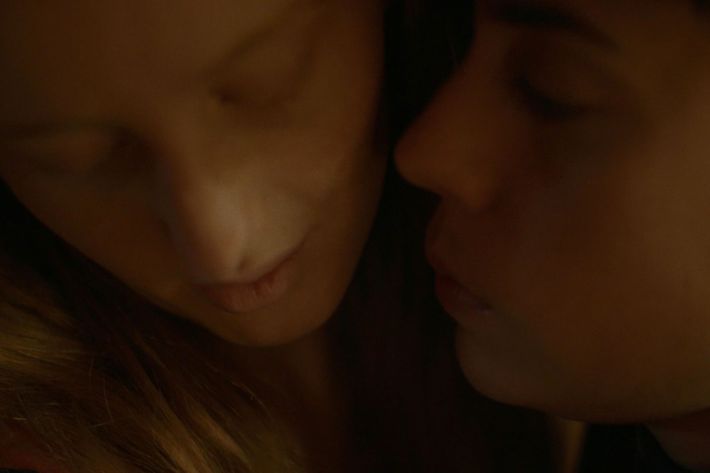 The morning the scene was shot, Colindrez kept thinking of the movie Blue Is the Warmest Color and how the actresses in it described crying through the filming of a lengthy lesbian sex scene because of what director Abdellatif Kechiche was demanding of them. "They were pushed to their limits because of what this guy thought these women would be doing to each other in a sexual situation," Colindrez says. "I was thinking how miserable it would be for our scene to be directed by a guy and what he thinks we're supposed to say to each other."
Peirce found that the number of women on set directly affected the way she directed. "It allows for a real emphasis on female sexuality, female desire, the female gaze, and female creativity because the people who are coming up with the story lines and the dialogue and the activities and the action are women," she says. That fluidity on set was born in the writers room, where female and gender-nonconforming writers felt comfortable opening up about their own lives and sexual fantasies as they adapted Kraus's book. The first week they convened, the writers shared stories from their personal lives that became the basis for the fifth episode, "A Short History of Girls," a series of vignettes in which several of Marfa's women write their own letters to Dick and explore their innermost desires.
"I've been the only woman in a writers room before and I felt like it was my duty to articulate a singular woman's perspective as if there is only one," says co-executive producer Heidi Schreck, who co-wrote "A Short History of Girls." In those situations, she says, it was common to be asked to rewrite all of the female characters or judge if an episode "passed the test" determining whether it was offensive to women.
Before Transparent, Soloway worked in male-dominant writers rooms, too. "A lot of cis men don't realize that when they are talking about 'liking' something, they are usually talking about whether or not it makes them uncomfortable," she explains. "Being the object of the gaze instead of being the gaze actually feels uncomfortable for a lot of men. What I don't think many of us realizes is how much of a privilege perpetrator that is — male directors and writers are naturally going to try to shape something into something that pleases them."
You couldn't find a better counterpoint than the series finale, "Cowboys and Nomads," in which Chris finally gets what she wants and is about to have sex with Dick when she gets her period and he runs to the bathroom to wash his hand. Disappointed, she puts on his boxers and a shirt and walks off into the desert, menstrual blood dripping down her thigh. "I don't think many guys want to put that in their shows," Schreck says. "Maybe out of respect they're not putting our periods on their shows. But I will say that it was one of my favorite things just because I feel sex on your period is something we all have stories about."
Hahn got a kick out of it, too. "Her womanness was too much for Dick. That day, when I actually got to have amazing period blood applied to the inside of my thigh," she says, laughing, "I could not believe we were getting away with it."