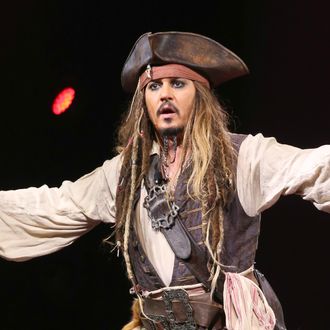 Photo: Jesse Grant/Getty Images for Disney
Just because you're dead doesn't mean you can't brag about yourself a little. As you might have expected, Disney's Pirates of the Caribbean: Dead Men Tell No Tales sailed to the top of the Memorial Day weekend box office. While the film only took in approximately $77 million over four days, as Deadline reports, the film's expected $275 million global box office will likely help make it one of the 25 biggest global openings of all time. In the hopes of winning over Chinese audiences, Dead Men even held their world premiere at Shanghai Disney Resort earlier this month, the first time a Hollywood movie debuted in mainland China. Good thing that ship can sail all over the world, right? The ship is also presumably dead.
Meanwhile, Baywatch is predicted to bring in around $26.6 million by Monday, having hit theaters this past Wednesday, putting it third behind Guardians of the Galaxy Vol. 2, which is currently scheduled to reach a cumulative box office of $337.6 million by the end of the long holiday weekend. Alien: Covenant and the teen drama Everything, Everything starring Amandla Stenberg earned $13.1 and $7.8 million respectively. The tale the weekend box office clearly tells? No part of the world can say no to a pirate movie.