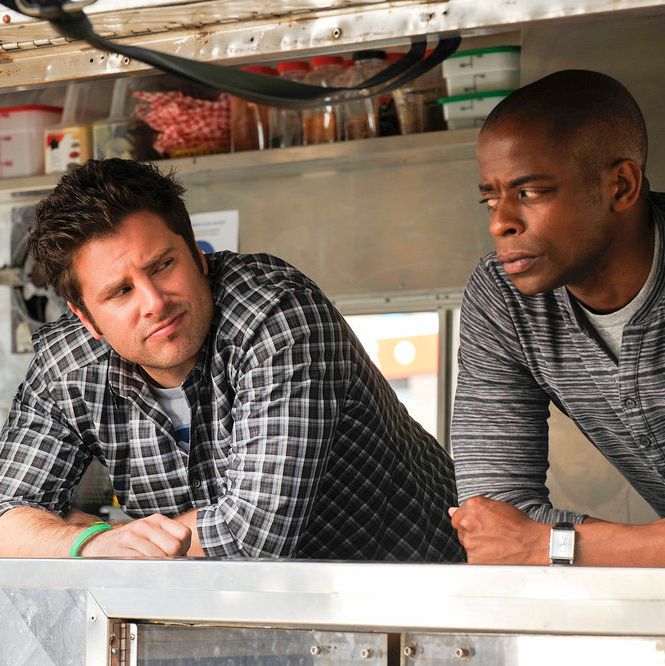 James Roday and Dulé Hill in Psych.
Photo: Alan Zenuk/USA Network
Patience is a virtue, Psych-Os: A little over three years after airing its series finale on USA, Psych will be returning to the small screen later this year for a special holiday movie. Pineapples for everyone in celebration! In Psych: The Movie, the group of friends and colleagues will "come together during the holidays after a mystery assailant targets one of their own," which will inevitably bring with it some psychic shenanigans for Shawn and some new nicknames for Gus. (Excuse us, Gus T. T. Showbiz.) We're as thrilled as everyone to see the fleeting return of USA's finest blue-skies show, so in anticipation of the movie's release in December, here's a list of things we hope to see when it airs.
The general presence of Timothy Omundson.
While all of the leading cast members are confirmed to be in the film — so, James Roday, Dulé Hill, Timothy Omundson, Maggie Lawson, Corbin Bernsen, and Kirsten Nelson — sadly, Omundson recently suffered from a "mild stroke" and the script is being adjusted to accommodate his recovery. We'd be bold enough to say that unless Omundson is well enough to film his scenes as Carlton Lassiter this summer, they should hold off on shooting the film until he's better.
The appearance of fan-favorite characters, plus Tony Shalhoub.
USA has already teased that a few familiar faces will be popping up throughout the two hours, and we hope this means the following: Buzz McNab, Woody, Pierre Despereaux (this is a given, don't worry), and the fictionalized Curt Smith. The ultimate treat would be if Tony Shalhoub made an appearance as his Monk character Adrian Monk, as it was vastly implied in Psych's series finale that Chief Vick and Juliet were now working with him in San Francisco for the SFPD. Think of the USA network synergy!
Shawn and Juliet marry and have a child.
As delightful as it was to see the duo's cat-and-mouse romance unfold throughout Psych, it would be a little unfulfilling if three additional years went by and their relationship hasn't evolved beyond the "delightful man-child" and "more mature woman" dynamic. It would be nice — and not at all surprising — if they married soon after Shawn's series finale proposal and had a child soon after, forcing Shawn to properly grow up.
Let the Psych business thrive in San Francisco.
Shawn and Gus are damn good at their jobs, despite their eccentric methods. Moving the business from Santa Barbara to San Francisco would present them with a larger potential clientele by being in a bigger city, especially if they get into the good graces (once again) with Chief Vick and the rest of the SFPD. Same show, new environment.
Give Gus some happiness.
Gus never found a long-lasting romance in the series, with his somewhat faux smooth-operator persona often getting mocked by various characters for the sake of easy laughs. Since he decided to move with Shawn to San Francisco, the least the movie could do is give him a legitimate relationship that solidifies his impulsive decision wasn't a total mistake in the end. Or better yet, a happy marriage!
Henry is a respected teacher.
When we last saw Shawn's father, he was giving his three-person criminology class the time of their lives by taking them on a field trip to reprimand a dangerous criminal. (Nothing screams "lecture" quite like blowing some tires up with guns.) Becoming a professor would be the natural next step in Henry's retirement plan, and he sure as hell has a lot of experience to make him qualified for the gig. Who knows, maybe a new Shawn will be found in his classes.
Pineapples galore.
Obviously.