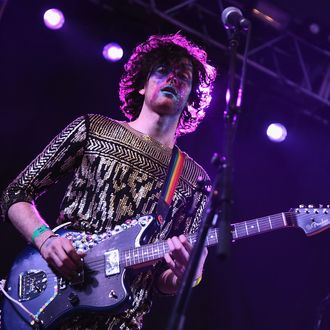 PWR BTTM.
Photo: Michael Loccisano/Getty Images for SXSW
Following allegations of sexual assault and abuse made against queer punk duo PWR BTTM, the band have shared a statement on Facebook addressing the controversy. For context, on Wednesday night, a member of a closed group on Facebook called Chicago DIY accused PWR BTTM's Ben Hopkins of multiple incidents of sexual assault, including against minors, and claims to have witnessed Hopkins (who uses they/them/their pronouns) "initiate inappropriate sexual conduct." The user went on to publicly post screenshots of alleged conversations with other people accusing Hopkins and their bandmate Liv Bruce of sexual misconduct, as well as a photo of Hopkins next to a drawing of a swastika. (Hopkins previously apologized for that photo last December when it first surfaced.)

In their Facebook statement, PWR BTTM say "the allegations come as a surprise, but we are trying to address them with openness and accountability." It continues: "Ben has not been contacted by any survivor(s) of abuse. These allegations are shocking to us and we take them very seriously. Further, the alleged behavior is not representative of who Ben is and the manner in which they try to conduct themselves." PWR BTTM say they have set up an email address, which Hopkins will not have access to, where "a survivor or someone working directly with a survivor can discuss the allegations being expressed on social media." The band added that they are also looking to hire "a mediator with the necessary qualifications" to run the account and have ensured further updates on the matter. Vulture has reached out to PWR BTTM's reps for further clarification. Read PWR BTTM's full statement below.

However, another accuser who spoke to Jezebel anonymously and says that Hopkins sexually assaulted her last year after a PWR BTTM show claims that the band's statement is untrue. "The statement that they made, I know for a fact, is an actual lie because I know they did know [about the allegations]," she says. "The statement they made is 100 percent false." In an email to Jezebel, the band's manager denied knowing about the allegations until they were made public and says she had "not been contacted by anyone close to the victim or been made aware of any details listed here." The band has yet to make any further comment.
As the fallout from the allegations continues, PWR BTTM have reportedly canceled their album-release party at Rough Trade NYC scheduled for Friday night. Additionally, their would-be opening act T-Rextasy have dropped out of an upcoming tour with PWR BTTM, claiming they were made aware of the allegations about Hopkins by an accuser when they first signed on, but chose to go ahead with the tour because they "did not want to out the person who had come to us in confidence" or "damage our professional relationships." They continued: "This in no way excuses us from culpability. We were scared and confused but we were also selfish. We made a mistake supporting this band." Opening acts Nnamdi Ogbonnaya, Tancred, iji, and Ratboys will also no longer join PWR BTTM on their tour, each citing the allegations as their reason for quitting the tour. North Carolina's Hopscotch Festival has also canceled PWR BTTM's performance.

Cameron West, one of the band's touring members who did arrangements on PWR BTTM's new album, has also quit the band. In a statement, he claims that PWR BTTM had prior knowledge of these allegations, which he says were "in fact levied via e-mail months ago, but were left unshared with other members of the band, including myself." Nicholas Cummins, the band's bass player, has also shared his reaction to the news, saying that he'd previously "seen rumors of abuse." He goes on: "I'll say what I told Ben; while I will never dispose of them as a human, I fully believe all accusations that came up today."
This post has been updated throughout.