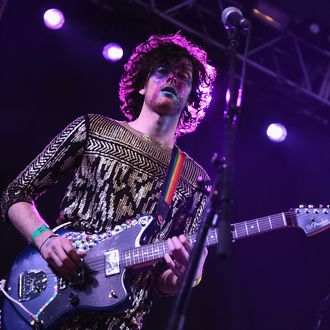 PWR BTTM.
Photo: Michael Loccisano/Getty Images
As more allegations of sexual assault against punk band PWR BTTM's Ben Hopkins continue to emerge, the band has now been dropped by their management company. In a statement, Salty Artist Management says, "We do not take these kinds of allegations lightly and our thoughts are with victims and survivors of abuse who have been affected by this." The news comes after several people on social media accused Hopkins of assault, including assault against minors. Since then, other accusers have come forward, and some people involved with the band — including supporting acts and touring band members — now claim to have had knowledge about the band's misconduct. In the only statement PWR BTTM has made so far, the group called the allegations a "surprise" and claimed this was the first they'd heard of them. The band's manager previously told Jezebel that she also didn't know about the allegations until they became public.
Update, May 12: According to reporting by Jezebel, the band was well aware of the sexual-assault allegations. An anonymous women interviewed by Jezebel (called "Jen") said she reached out to band member Liv Bruce and that the band knew of the allegations earlier this year.
Update, May 13: The band has been dropped by its label, Polyvinyl Record Company. "Throughout our 20 years, Polyvinyl has purposefully operated on the core principle that everyone deserves to be treated with fairness and respect. There is absolutely no place in the world for hate, violence, abuse, discrimination or predatory behavior of any kind," the company said in a statement on Facebook. "In keeping with this philosophy, we want to let everyone know that we are ceasing to sell and distribute PWR BTTM's music. If you have ordered PWR BTTM products from Polyvinyl and would like to receive a full refund for your purchase." Polyvinyl will also be making donations to organizations that support efforts against sexual and LGBTQ violence. The company also confirmed to Vulture that the band is no longer signed with them.