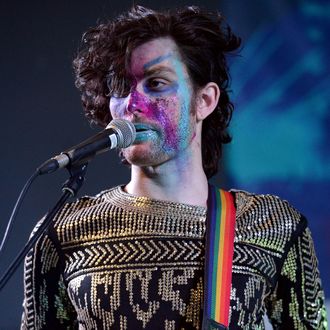 PWR BTTM.
Photo: Scott Dudelson/WireImage
As the fallout from accusations of sexual assault against PWR BTTM continues, the band's music is slowly being yanked from all music streaming services. On Saturday, the band was dropped by its label Polyvinyl, which said it would no longer sell and distribute PWR BTTM's music and would offer full refunds to anyone who purchased PWR BTTM products. Already, the label's split from the band has had damaging consequences for PWR BTTM: As of Tuesday morning, PWR BTTM's digital catalogue has been removed from Apple Music, Tidal, Google Play, and Amazon. According to a representative from Polyvinyl, the band's music will disappear from Spotify shortly as well. (At time of publication, their two albums are still available to stream on Spotify.) The removal hits PWR BTTM's latest album Pageant the hardest – the album only just came out on May 12, and will soon be unavailable to anyone who didn't download or purchase it physically in the brief window of its wide release.

Though PWR BTTM have yet to release another formal statement – one is expected this week – the band have also reportedly canceled their upcoming tour. Pitchfork reports that several venues scheduled for that tour have canceled PWR BTTM's shows, citing either the allegations against Ben Hopkins or that they've been notified by the band of the tour's cancellation. Immediately following the allegations, PWR BTTM lost all the supporting acts on that tour.