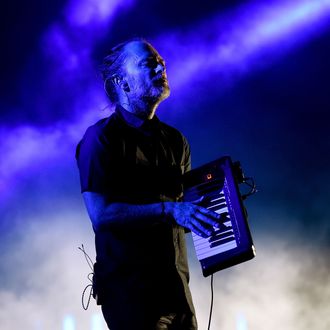 They've opened up in a rare interview.
Photo: Kevin Winter/Getty Images for Coachella
With the 20th anniversary reissue of OK Computer approaching, Radiohead have granted Rolling Stone a rare interview in which the they take a deep dive into the making of their seminal album. As you might've deduced from thousands of listens, it's an anxious record that the band remember as no walk in the park to make. "I was basically catatonic," Yorke says of coming off months of touring to record the album. "The claustrophobia — just having no sense of reality at all." Those feelings of confinement developed into a detachment from the world and distrust in the changing times. (Recording the album in a haunted manor also didn't help, he says.) Though Yorke shoots down the idea that the record was as literally about technology as many have believed:
"I was getting into the sense of information overload. The paranoia I felt at the time was much more related to how people related to each other. But I was using the terminology of technology to express it. Everything I was writing was actually a way of trying to reconnect with other human beings when you're always in transit. That's what I had to write about because that's what was going on, which in itself instilled a kind of loneliness and disconnection.
Still, Yorke gets why the record resonates so much with nerd culture — in fact, he agrees with that assessment in retrospect: "The whole album is really fucking geeky." Because the band had then come off a somewhat mismatched tour with Alanis Morissette — where, from Jonny Greenwood's perspective, they were "playing interminable hand-organ solos to an audience full of quietly despairing teenage girls" — to a cult fandom of her level after OK Computer's release, they felt imposter syndrome. "Back then, the person I saw in the mirror kept saying, 'You're shit. Everything you do is shit. Don't do that. It's shit,'" Yorke says. Ed O'Brien adds, "Maybe we were slightly wary of it after the response that 'Creep' had. It all comes a bit double-edged, really."
They've since outgrown most of that self-doubt, but making albums, they say, still takes a toll on the band, especially when Yorke's life is once again in turmoil. For this particular interview, they're hesitant to talk about making A Moon Shaped Pool. "There was a lot of difficult stuff going on at the time, and it was a tough time for us as people," says Yorke, who lost his former partner to cancer later that year. "It was a miracle that that record got made at all." Give them another 20 years, and we might learn more. Until then, Yorke says he's coming around to the idea of recording as a live band again on whatever they do next, no matter how much he's been against it: "I've always been extreme about resisting us being a drum-guitar-bass band. But if that's what people want to try, I'm too old to be standing there with a hammer and saying, 'We must do this, we must do that!' I would like everyone to feel free."