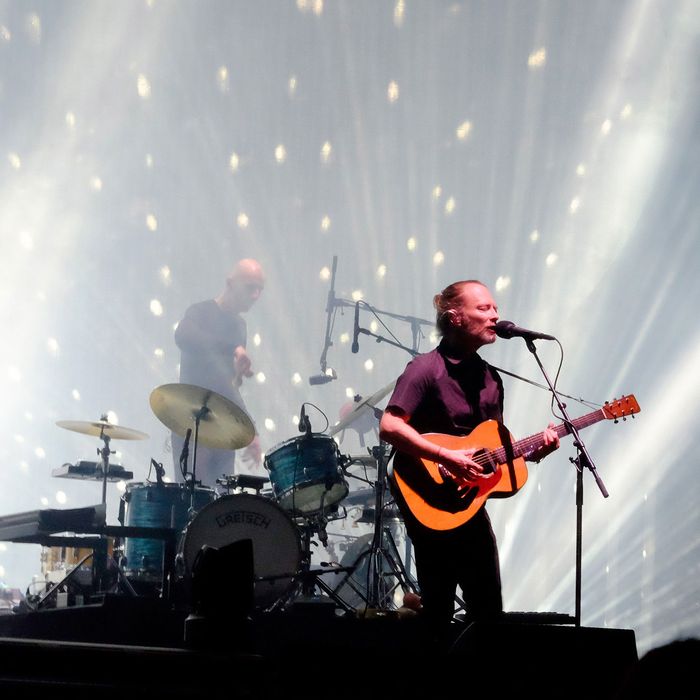 Thom Yorke and Radiohead.
Photo: Trixie Textor/Getty Images for Coachella
Following a series of characteristically cryptic clues sprinkled around major cities worldwide, Radiohead finally put obsessive fan speculation to rest on Tuesday with the announcement of OK Computer's 20th-anniversary reissue. Later this summer, the band will release newly remastered versions of their now-classic 1997 album, entitled OKNOTOK, that promises eight B-sides, a cassette featuring OK Computer demo and session tapes, a hardcover art book, over 100 pages of Thom Yorke's journal entries, and more ephemera.
For longtime heads, though, the holy grail of the OK Computer reissue is the three previously unreleased songs it contains: "I Promise," "Lift," and "Man of War." While it's the first time these tunes appear on any record, they're hardly appearing out of the blue. Radiohead's been performing them live for years. The elegiac "Lift" and "I Promise," for instance, were both part of the band's live show in 1996. Given their steady circulation on Radiohead's tour that year, it seemed only natural that the two songs would make it onto OK Computer when it was released a year later. But they didn't, and fans have been scouring for clues about when (or if) they'll be put to tape ever since.
The OKNOTOK release isn't the first time Radiohead has withheld long-standing live favorites and chosen to release them much later. 2016's A Moon Shaped Pool included another crop of older show favorites: "Identikit," "Ful Stop," and "True Love Waits," a cut that finally made it onto a studio album 21 years after Radiohead started playing it in their live shows. Until the 2016 release of Pool, though, the only iterations of these songs existed as bootlegs, unreleased B-sides, or through hearsay from excited fans lucky enough to nab tickets to see them in the flesh.
Twenty years is a lifetime, yet it's doubtful that Radiohead takes perverse pleasure in just sitting on songs at the expense of their dedicated fan base. Jonny Greenwood himself has said in the past that each Radiohead album holds "a very old song," like In Rainbows' "Nude," which was written in the mid-'90s. Simply put, a large part of why Radiohead's been sitting on these songs for so long is because they're perfectionists. In a 2001 New Yorker profile, Alex Ross broke down the band's songwriting process, which often starts with a sketch from Yorke, then harmony work from Jonny Greenwood. And after that? "Finally, the others digest it for a while, working out their parts on their own," Ross writes. "It can be months, even years, before a song comes together in a way that satisfies all of them." That explains why, after trying in earnest to record "True Love Waits" properly since 1995, they just got around to releasing it last year.
It's also probable that these songs have remained unreleased due to timing. During what's regarded as Radiohead's golden era of songwriting (from 1995 to roughly 2003), it wasn't logistically feasible for dozens of strong songs to make it onto studio albums with finite lengths. It's not that the unreleased songs went away forever, either. They've just now evolved into works in progress that Radiohead continue to tinker with. Radiohead took "Lift" out on the road to test it first in 1996, then reworked it again for a handful of shows in 2002, long before finally pinning it down in a physical release.
Withholding these songs, especially at the peak of Radiohead's fame in the mid-'90s, could also have been an effort to slightly slow down their runaway success. As guitarist Ed O'Brien said in an interview with BBC 6 Music this week, Radiohead "subconsciously killed" the energetic crowd favorite "Lift" ahead of OK Computer's release, fearing that it would become a huge, mainstream rock album like Jagged Little Pill (they were touring with Alanis Morrissette at the time). "If it had been on that album, it would've taken us to a different place, and probably we'd have sold a lot more records," O'Brien said.
But what might the future hold for dozens of unreleased Radiohead classics, especially with two huge releases in the Radiohead catalog — Kid A and Amnesiac — creeping up on their 20th anniversaries in 2020 and 2021, respectively? When a song was recorded might not necessarily be a tell. For instance, while "Man of War" was recorded earlier than the OK Computer sessions, it's not hard to see why it's on the OKNOTOK reissue. In that song, Thom Yorke pleads for people to "unplug the phones," which fits with OK Computer's general theme of creeping fear about where technology is headed. It would have also made sense for the discomfiting "Follow Me Around" — which the band first hinted at in their hypnagogic OK Computer tour documentary Meeting People Is Easy — to be on this upcoming reissue. Perhaps "Follow Me Around" will find new life in a Kid A reissue, should one happen in a couple of years — the blues-licked lament about surveillance would make sense thematically, at least, given how disconcerting it is. On Reddit, there's been hopeful chatter for the burning "Cut a Hole" to reemerge in some form during the tenth anniversary of In Rainbows this October, too.
Radiohead's been vocal about their discomfort in appeasing the masses, and it's evident in how they infamously became averse to "Creep" shortly after it became a hit. But they recognize that there's a symbiosis with audiences at play that keeps them looking toward the past, as well as the future, with their ongoing recordings. When CMJ wrote to the band in 2001 about unreleased fan favorites like "Follow Me Around" and "Lift," Thom Yorke wrote back: "We're trying to work from the basis that it doesn't matter how it is done technically in the studio, that is one workplace, and playing it in front of people is another. It's a case of rewriting things. Some of it works, some of it doesn't … We try hard not to have a problem with it. Missing songs find their way back eventually."
It's very possible that Radiohead will eventually run their well of unreleased classics dry — at this point, only a handful remain — but the mysteries won't stop there, even if that happens. It's still unclear why they're releasing such treasured tracks on a reissue, instead of holding onto them a bit longer for a full-length album down the line. And this band has a singular talent for conjuring up constant chatter and conspiracy theories on the internet with every move they make. Their legacy is intact, regardless of how they choose to finally unveil these beloved old songs.
So there's hope yet that tracks like "I Froze Up" will make it to future recordings. What makes it impossible to definitively know if that's true, though, is that Radiohead bears an impish streak with a penchant for calling bluffs. Still, the steady release of old fan favorites finds the band inching toward a poignant conclusion. It started with the wariness, anxiety and paranoia that buzzes through every pore of OK Computer, from the unsettling dirge "Climbing Up the Walls" to lyrics urging: "Idiot, slow down, slow down" in "The Tourist." Twenty years after this band from Oxford started wondering aloud about the dangers of humanity comingling with technology, we're now deeply entrenched in the internet age, losing our eyesight one FaceTime at a time. It's dubious whether we're fitter, happier, and more productive in 2017 than in 1997. We're no longer dealing with dial-up speeds, but rather a network of questionable information that often spreads faster than the truth. Now, nothing can be kept a secret anymore — not even long-lost songs that once lived only in memory.