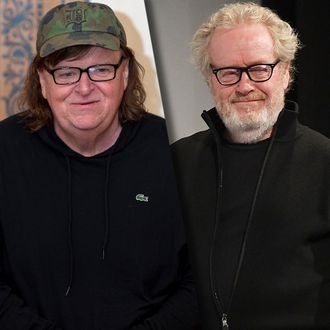 Big day for dudes with rectangular glasses.
Photo: Ben A. Pruchnie/Getty Images/Matt Winkelmeyer/Getty Images
TNT's making TV about unimaginable, unbelievable, inhuman horrors, and also some sci-fi from Ridley Scott. The network announced today that it has green-lit Michael Moore Live From the Apocalypse, a new TV series from the prolific documentarian, which will "pull back the curtain on everything from Washington politics to Wall Street shenanigans" and premiere late this fall. Moore's also planning a documentary about Trump called Fahrenheit 11/9 and a Broadway show that will start in July.
For those interested in sci-fi, TNT has also enlisted Ridley Scott and his production company Scott Free Productions to build a "night of original science-fiction programming" that will include both hour-long and short-form series. The channel hasn't shared any details on the specifics of the night's scheduling, but you can look forward to a whole smorgasbord of options, as Scott has previously produced TV that ranges from The Man in the High Castle to The Good Wife — which, we know, isn't sci-fi, but there's there really is something unearthly about Diane Lockhart's statement jewelry.