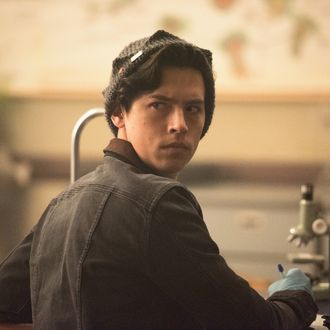 Who needs words!
Photo: Dean Buscher/The CW
Given the speed at which Riverdale was renewed, ended its first season, and has already started filming its second, the young stars of the series haven't had much time to prepare ways to talk about season two. Which might explain why it appears they've all collectively defaulted to the same frustratingly vague adjective: "dark." Cole Sprouse tells TV Line that season two will be "getting darker and stranger" — a line obsessives of the show will never want to hear again by the time it airs. (Camila Mendes, who plays Veronica, has also said the next season will go "darker and deeper.") And at Vulture Festival's own Riverdale panel, several cast members echoed this broad tonal description, with the actors who portray Archie, Kevin, Betty, and Hermione each saying their characters will go "dark" (or, in Jughead's case, "darker") next season.
Even the adults on the show have struggled to find a better word: "[Season two] starts in a really dark place: revenge," showrunner Roberto Aguirre-Sacasa has said. He also reiterated, "It's going to be a very dark, twisted version of Grey Gardens or Whatever Happened to Baby Jane?" To Sprouse's credit, though, he's yet to use "weird," though his additional attempts at talking about season two without talking too much about season two include descriptors like "heavy cinematography, this overbearing coloration, this really" – you guessed it – "dark content that's kind of over-the-top and campy, but it's taken very seriously." For Riverdale's season two press run, let us pray the CW invests in a thesaurus.