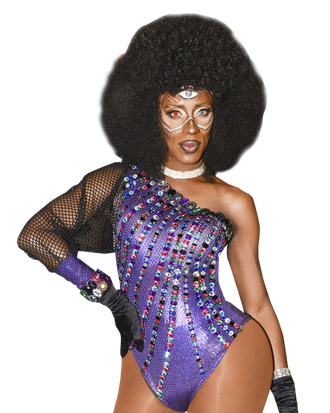 Spoilers ahead for RuPaul's Drag Race.
On season nine of RuPaul's Drag Race, Nina Bo'Nina Brown has transformed herself into a sexy Minnie Mouse, a Fame-era Lady Gaga, and a Peach-headed debutante — and that was just in episode one. The Atlanta queen is one of the most talented and versatile makeup illusionists to grace the fake-brick halls of Drag Race, which is why her performance in this week's episode came as such a surprise. You'd think that someone with Nina's skills would've demolished the competition in a makeover challenge, but her disjointed "bunnies in bustiers" runway failed to impress the judges. She landed in the bottom two with Shea Couleé, who sent her packing with a lip sync to Demi Lovato's "Cool for the Summer." It seems like Nina's inner saboteur finally got the best of her, but is that the full story? Vulture caught up with the one and only Nina Bo'Nina Banana Fofana Fernandez Versini Brown to find out.
Hi, Nina! Any plans for your first post-elimination weekend?
No, I'll probably just hide my face. [Laughs.] I don't have nothing planned. Thank god I don't have a booking or a show or a meet-and-greet planned for Friday. I want to keep to myself this weekend.
So you don't want to watch your elimination in front of other people?
It's partly the elimination. I just don't think I gave my best looks and didn't give my all in the challenge. That's the part that bothers me about this week's episode.
Do you think your elimination was fair?
I think it was fair. I don't think our dance on the runway was as horrible as they were saying or whatever, but the look wasn't my best. I knew I was going to be on the bottom, so I was already at peace with that.
I sensed that when I watched you lip-sync. You seemed a little resigned, like you already knew you were going to sashay away.
It's funny you say that. Other interviewers I spoke with today caught on to that as well. I remember looking away from the camera during the lip-sync, looking off to the side. I didn't move as hard as I could've. Here's the thing, John: You saw what I had on. The leotard? Shea had on a gown. I could have really gone in on her. But I was in my head. I kept thinking, "This is Shea's first time lip-syncing. She hasn't done anything wrong. They're going to keep her." I checked out.
You said you didn't give your best this week, but there are plenty of weeks where you were the standout. What's it been like to watch yourself on TV, the good and the bad?
Thank you for saying that. I'm glad you feel that way. Watching it has been kind of hard. It's tough when people on social media tell me, "I know you're top three! I know you're going to win! I know you're this! I know you're that!" when all the while you know you didn't win. I just wish that there were more moments shown of me being happy instead of just womp-womp-wahhhh.
You were really open about dealing with depression and self-esteem issues. I've seen a lot of viewers connect with that. Why do you think that is?
Well, I have a story. Someone like Shea Couleé, who's perfect in every episode, might seem like a robot. But with me, even though I'm stumbling a little bit, there's something to relate to, especially for people who do struggle with depression.
On the flip side, I've seen a lot of viewers talk about "Nina's attitude this, Nina's attitude that."
I do hate all the fans who act like they've never been down before. It kills me! Like, you've never been down? Never gotten in your own way? It's something I've been dealing with for a long time. But I do know how to put on a smile and get through it. Like, the people who commit suicide always seem so happy and chipper, but inside they're just fighting demons. You just never know somebody. It's good that I'm a — well, not a role model — but a kind of figure for people who are going through something similar. I wish I could have gotten to a point on the show where I overcame everything I was going through, just to give people a shining light like, "Okay, she got through it." But I didn't feel that way in my head at the time.
You're one of the season's most active social-media queens. What makes you want to connect with your fans like that?
One, I'm an attention whore. [Laughs.] And two, you know what's weird? I can be awkward around my quote-unquote sisters, but I can feel so much more comfortable when I'm talking among strangers. I want to be accessible to my fans. I just feel like I should do that, like I owe them that. It feels good to bring a bunch of people together into a space where they come out and feel comfortable and find new friends.
On the show, you mentioned feeling excluded from your local drag community. What's your relationship like with the Atlanta scene?
Um … I don't have one. I've had people coming up to me saying sweet things since the show started airing, but in my mind I'm like, "Oh, now? Because I'm on Drag Race?"
You perform outside of Atlanta, too, right? How's that been?
It's good. To be able to perform in other places, I love that. I love every place I've been so far.
Any city in particular?
New York loves me. For some reason, they buy my bullshit. And Chicago lives for Nina Bo'Nina Brown.
Drag Race might be over, but what's next for Nina?
I'm just hoping it opens doors. I mean, it has already opened doors for me, but I'm hoping there are more so I can stay happy and financially stable.
Any words of wisdom?
For people who are auditioning for the show — or whatever you're doing in life — learn from me. Don't stay in your head. Keep going, have faith, and stay true to who you are.
This interview has been edited and condensed.