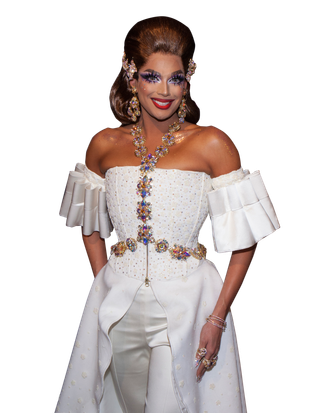 Spoilers ahead for RuPaul's Drag Race.
She's perfect. She's beautiful. She looks like Linda Evangelista. Nevertheless, Friday's episode of RuPaul's Drag Race proved to be a rare stumbling block for Valentina. She fell into the bottom two after her mock pilot failed to impress the judges, so she and Nina Bo'Nina Brown had to lip-sync to Ariana Grande's "Greedy." That's when the real drama started. Valentina didn't know all the words to the song, so she attempted to hide her face behind her runway mask. RuPaul was having none of it. Breaking with convention, Ru stopped the song and demanded that Valentina take off the mask. She complied, but remained visibly shaken throughout the performance. Unable to regain her composure and turn it out like Nina, Valentina was asked to sashay away. So, what happened? Vulture caught up with Valentina to find out. We couldn't see her smile — the interview was conducted over the phone — but we're sure it was beautiful.
How do you feel about your elimination?
This happened many months ago, so I've had a lot of time to process it. I'm feeling very prepared to take on whatever's to come. I'm ready to take this on as a challenge. It's my responsibility to find a way to end up on top somehow.
What was that day like?
I was in a daze. I had a real cloud of negativity hanging over me. I was trying to present myself as strong, but inside I was just torn.
That reminds me of something you said during the cheerleading challenge: Even when things are hard, you've just gotta smile through it.
Yes. If I was ever feeling stressed, I told myself, "You are here. You're making a television show. It's entertainment. If you don't have fun, what's the point? If you enjoy yourself, people will enjoy watching you." But when the day came, I couldn't snap out of it. What I really needed at the time was a friend, just one person who knew me and loved me. But I didn't have that. I couldn't channel my strength. But that was then. Now, I feel really grateful. I had a very successful run on the show. Every episode leading up to my elimination, I excelled and did my best. I had such a great time.
Did you wear the mask to hide not knowing the lyrics in case you had to lip-sync, or was it always going to be part of your club-kid runway?
Things work in the oddest and most mysterious ways. It's true: I didn't know all my words. But I had planned to wear that mask with the matching pair of gloves for my club-kid look all along. I didn't even know I was going to do bad that week until me and Nina stood there and watched the edit of our video onstage. I then started to realize, "Oh. This is bad. This is really bad."
What was going through your head when RuPaul stopped the music? She never does that.
That really shook me. I couldn't see anything, couldn't hear anything, couldn't feel anything. I wish I could go back and slap myself and say, "This is the time to prove yourself, girl! You're a drag queen! Wake up!" Not knowing the song, I felt like I'd already lost. If I'd just ran with it and done my best to shalabalaba tuna my way through it, maybe things would have been different. All I can do now is accept what happened and move forward with my career.
Speaking of which, you're a fan favorite this season. How does it feel to suddenly have a connection with so many people?
It means a lot to me. It means a lot that people are connecting with who I am, connecting with what I do and what I say. It's something I'm really grateful for. I've only ever dreamt of having this kind of life — to be an artist, to take my creativity on the road, to have people really admire my ideas, what I wear, the songs I perform, and how I perform them. People admire me from all parts of the world. It's such a special feeling and a responsibility to keep them interested. I've got to present even better work and work even harder to make sure those loving and adoring fans stay with me.
Why do you think your fans are drawn to you?
I bring so much passion and creativity to what I do. Every little thing. I design the things I wear. I mean, I don't sew them. I'm more like the artistic director of Valentina. When I go onstage, I want to feel this fantasy that I'm the greatest superstar that ever lived. I want to feel like I'm the most powerful version of myself. I don't just want to throw on a stretchy spandex suit and pop, lock, and drop it to any old pop song.
What are the references you draw on?
I really reference telenovelas. I reference trying to be the Miss Venezuela in any situation — on the way to being crowned Miss Universe, of course. I really feel like Valentina is a character out of a Pedro Almodóvar film. I think of myself as having a retro aesthetic with a modern interpretation. I really love old Spanish music. It's so deep in its lyrics and so poetic. Nowadays, music feels like it's all about technology and beats and having a catchy chorus, as opposed to these classic songs that are like real poems, sometimes even with full orchestras. They're beautifully composed. I like to use my song choices to shed light on that craftsmanship. Fashion, too. I don't want to just put a dress on. I want the dress to have bones. I want the dress to have lines. I want the dress to be couture and draw on the work of a particular fashion house. I try to do that with everything. Hair. Performance. Everything.
You said that you want to focus on what lies ahead. What's next for Valentina?
Valentina is going to be releasing a very top-secret project very soon. She's not going to give up. This is her dream, and the first step in what I hope to be a long career. My ultimate dream is to become the face of drag in all of Latin America. It might be a big goal. It might be a big dream. But if I can get myself here, I can get myself there. I hope my fans and anyone who enjoyed watching me on Drag Race will follow me on this journey.
This interview has been edited and condensed.