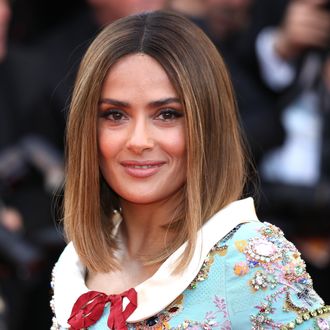 Salma Hayek
Photo: Chris Jackson/Getty Images
It is a truth universally acknowledged that if you want a party to be all it can be, invite Salma Hayek. The Mexican screen goddess has been a delight everywhere she's gone at the Cannes Film Festival this week. (Her husband, François-Henri Pinault, is CEO of Kering, which is an official sponsor of the festival.) On Monday, she showed up to the Kering Women in Motion awards in a pale-pink Jessica Rabbit wig and vamped it up for anyone who asked. "I was bored with myself!" she said.
And last night, she surprised everyone — but particularly the "Mexican dream team" of Guillermo del Toro, Alfonso Cuarón, Alejandro Iñárritu, Emmanuel "El Chivo" Lubezki, Gael García Bernal, and Diego Luna — at the dinner for the Cannes 70th-anniversary celebration by bringing her own mariachi band. "It was Salma who brought them," del Toro confirmed when I randomly ran into him this morning. "That's how we always do it. We sang for two hours! I love singing! Salma loves to sing. Gael and Diego love it. Alejandro is really, really good. But Alfonso doesn't like it so much."
He's not lying. All the way back in 2006, at a Children of Men screening in New York that also happened to be on Cuarón's 45th birthday, I witnessed del Toro lead a mariachi band in singing the interminable Mexican birthday song, "Las Mañanitas," as Cuarón held a cake and looked like he wished he could be anywhere else. "It's a damn long song! If you sing the whole thing, it could be days. There's like 30 verses!" Cuarón had said, while del Toro assured me the longest it ever goes on is 20 minutes.
Joining them as enthusiastic cantantes — especially of "Cielito Lindo," otherwise known as "the ay-ay-ay-ay song" — were Italian director Paolo Sorrentino, French director Michel Hazanavicius, 88-year-old French directing legend Agnès Varda (who became the first woman to win an honorary Palme d'Or, in 2015), and, of course, Isabelle Huppert, who'd had her own glorious musical moment earlier that evening singing "Happy Birthday" to Cannes.
According to Indiewire's report, Hayek closed out the night by leading a conga line to the stage. Clearly Cannes festival director Thierry Frémaux knew what he was doing when he invited that particular crowd — and kept the mezcal flowing. "I don't know if Cannes likes Mexican films," Cuarón said at a Masterclass he gave today. "But they love how we party!"